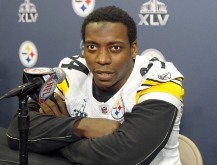 Posted by Will Brinson
In case you hadn't heard,
Steelers
' RB
Rashard Mendenhall
did
some tweeting recently about Osama Bin Laden
. It did NOT go over well with the general public. And it apparently didn't go over well with athletic wear company Champion, who fired Mendenhall on Thursday.
Mendenhall inked a post on his site attempting to explain his Twitter burst
, but clearly that wasn't enough, as the company, who's paid Mendenhall to endorse their products, decided that Mendenhall's tweets were "inconsistent with the values of the Champion brand." So, they fired him.
"In light of these comments, Champion was obliged to conduct a business assessment to determine whether Mr. Mendenhall could continue to effectively communicate on behalf of and represent Champion with consumers," Champion spokesman told
told Michael McCarthy of
USA Today.
"While we respect Mr. Mendenhall's right to express sincere thoughts regarding potentially controversial topics, we no longer believe that Mr. Mendenhall can appropriately represent Champion and we have notified Mr. Mendenhall that we are ending our business relationship."
It's not surprising at all to see Champion -- whose logo is colored red, white and blue, by the way -- pull this move from a public relations standpoint, as Mendenhall's comments alienated many a fan. But it is interesting from the perspective of how a brand, an endorser and a demographic interact.
For instance, here's an example of something similar from another form of popular culture: the Dixie Chicks, once upon an election or two ago, decided to speak out against George W. Bush. Because they are a country music band who caters to a particular, shall we say "more American" demographic, overcoming that sort of statement in public was nearly impossible. (Conversely, Green Day, a rock band whose listeners tend to be more liberal, can write an entire song ripping Bush, and the only consequence is that they sell more records.)
I'm not saying that Champion is a country band, but I do think that it's substantially more difficult for Champion to overcome a slew of average, everyday Americans refusing to buy their brand because they endorse Mendenhall.
And, of course, there's the fact that Mendenhall isn't exactly Tiger Woods, whose value as an endorser holds greater weight.
Look, Mendenhall didn't do anything
wrong
, he just did something
stupid
. Athletes -- and everyone -- today simply have to understand that using Twitter is just like being a at a press conference. While Twitter and Facebook and all forms of social media are a fascinating and fun way for athletes to communicate with fans and media alike, it's also a part of an individual's brand.
And as we've seen countless times, you don't need to break any laws to ruin your image in this country.
For more NFL news, rumors and analysis, follow

@cbssportsnfl

on Twitter and subscribe to our
RSS Feed
.