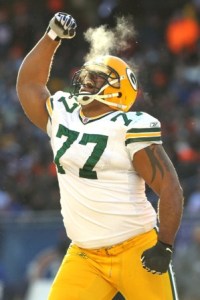 Posted by Josh Katzowitz
Even though he was willing to give the Packers a hometown discount, it appears likely that Packer DL Cullen Jenkins' career in Green Bay is over. Which is unfortunate for him, because he and his family enjoy living in Green Bay and really wanted to stay.
But a combination of injuries in two of the past three seasons and the fact he's 30 years old and with Mike Neal (who also, ahem, had his rookie season ruined last year by a torn rotator cuff injury) ready to step into the starting role, there doesn't seem to be much interest on the Packers side in bringing him back.
"Heading into last year, I've always been up there and always been a Packer, and I wanted to stay a Packer," Jenkins told Jason Wilde of
ESPN Milwaukee.
"So we approached the team and wanted to get some type of security, some type of longer-term deal before the season so I would know I would be there. It wasn't about money, it was about security, about trying to see if we could work something out."
Wilde asked Jenkins - who would have cost Green Bay about $12 million in 2011 if it had franchise-tagged him – if he would have taken less money from the Packers to stay with the organization he's been with since 2003.
"Yeah. That was the thought then," he said. "I knew in going to them, I know Green Bay, I know the market, I know how they handle business, and the thought was if we could get something reasonable worked out, I knew I would take less than what I could've gotten in free agency. But they never approached me with anything and never got any type of negotiations going. It's just how the business is. They had a lot of younger guys and felt they could move forward in that direction."
Jenkins had one of his more productive seasons last year, despite missing five games with calf problems, as he totaled seven sacks. But considering the depth for Green Bay's ends isn't great – especially if Johnny Jolly and all of
his off-the-field problems
don't return to the team – the Packers are taking a little bit of a gamble if they don't bring back Jenkins.
"Throughout my whole career, I've had a great time in Green Bay," Jenkins said. "The things that I've gotten to experience … heck, I was given my opportunity in Green Bay. And although this whole thing with them not approaching me about a contract and things like that, that may not be the way I would have liked things to happen, you can't base your whole experience with Green Bay off of that."
For more NFL news, rumors and analysis, follow @cbssportsnfl on Twitter and subscribe to our RSS Feed .