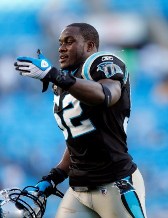 Posted by Josh Katzowitz
Since
Panthers
LB
Jon Beason
was accused of punching a Charlotte strip club patron in the face two years ago, the legal system has not been kind to Beason's accuser.
His name is George Frye, and he's suing Beason for the alleged attack. But after Beason was arrested in November of 2009, the criminal assault charge against him was dropped because of a lack of evidence and because, although there were a number of people in the club at the time, nobody came forward to corroborate Frye's assertion.
In a civil trial that begins today, Frye will try to get some judicial relief.
In his lawsuit, Frye said he told Panthers TE
Dante Rosario
that he had seen Beason and a woman snorting cocaine at the annual Lake Bash at Lake Norman. Once Beason heard the news, Frye alleged, he angrily approached Frye in the strip club, cursing and yelling.
From the
Charlotte Observer:
To cool things down, Frye says, he suggested talking outside.

Frye said he took one step and turned to see if Beason was following.

"Just as Frye turned around, Beason hit him with a crushing right blow to his left eye/nose area," the suit alleges. "When the blow landed, Frye saw a streak of light, his legs buckled and he fell to the floor."

Frye claims he was kicked as he tried to get up. When he got to his feet, he alleges, Beason struck him again on the left side of his head, causing him to stagger back as someone handed him a rag to catch blood rushing from his nose.

Frye claims he didn't raise a hand or provoke Beason, and that he didn't fight back.
Frye then says that after Beason was asked if he had hit Frye, Beason said, "Yeah, I hit him. It might cost me a hundred grand, but you don't go around telling people I'm doing coke."
Beason is countersuing for mental distress.
For more NFL news, rumors and analysis, follow @cbssportsnfl on Twitter and subscribe to our RSS Feed .