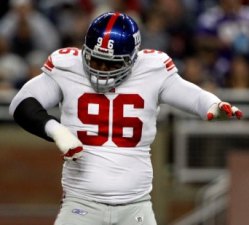 Posted by Josh Katzowitz
Giants
DT
Barry Cofield
has worked hard to get where he is. He was drafted by New York in the fourth round of the 2006 draft, and since then, he's accumulated 10 ½ career sacks and 210 tackles while making about $4 million in the interim.
So obviously, Cofield isn't the guy who's making tens of millions dollars per year* (the old billionaires vs. millionaires argument), and when he reads the Twitter stylings of
Reggie Bush
($26 million guaranteed in his first contract) – who, as you'll recall, tweeted that he's been
enjoying his lockout offseason just fine,
thanks very much – it upsets him.
*Yes, I realize $4 million in a five-year span is a good chunk of change.
Especially since Cofield is going to have an uphill fight to keep his job, now that the Giants have drafted defensive tackles in the second rounds of the last two drafts.
"It really pisses me off," Cofield told the
Newark Star Ledger.
"My career and some other guys, it's the definition of irreparable harm. I'm not going to get last year back (when he made $1.7 million as a restricted free agent). That's a year off my career, a year of pounding on my body. And this offseason I'm not going to get back. Doing the draft before free agency, that hurts a lot of guys. It definitely hurt me."
And you can see why Cofield feels like he deserves to get paid a ton of money – he did, after all, have a career-high four sacks and a career-best 54 tackles last year.
"I just want my fair chance," he said, "They gave me my fair chance last year. I went on the field and proved it. And now I want my fair chance to go out there and secure my future."
For more NFL news, rumors and analysis, follow @cbssportsnfl on Twitter and subscribe to our RSS Feed.