Posted by Andy Benoit
I have two things to say to Steelers safety Troy Polamalu: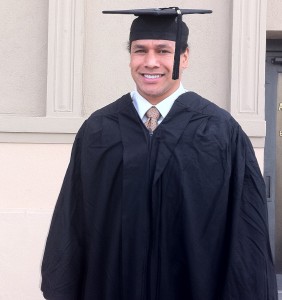 1. Congratulations

2. Thanks for writing a post for me.
Here's what I'm talking about. On Saturday, Polamalu issued this statement (photo courtesy of Polamalu's website, Troy43.com...and notice that all of his hair somehow seems to be tucked under his cap…!!??)

I'm thrilled to announce that on this cool, sunny Friday morning I donned a cap and gown, walked across the stage in the beautiful Alumni Park at University of Southern California, and was handed my diploma. I'm officially a USC graduate! While I feel excited and fulfilled, that's not really what I want to focus on in this message — I want to talk about the reason behind my decision to go back and finish what I started.

The majority of top picks in the NFL get drafted before they complete their college education. I truly love football and it's such an immense blessing and privilege as an athlete to be given the rare opportunity to use those talents at the highest professional level, but it's certainly not a replacement for an education. So I decided to finish what I started and walked that stage today not only because it was very important to me personally, but because I want to emphasize the importance of education, and that nothing should supersede it.

In other Polamalu news, Gerry Dulac of the Pittsburgh Tribune Review reports that Polamalu is doing well rehabbing his injured Achilles in Los Angeles. There was a slight tear in the Achilles suffered in mid-December on Polamalu's touchdown return against the Bengals. The injury was bothersome for the remainder of the season. He is expected to be 100 percent come training camp.

For more NFL news, rumors and analysis, follow @cbssportsnfl on Twitter and subscribe to our RSS Feed.