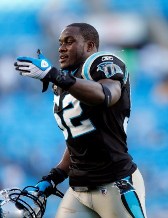 Posted by Josh Katzowitz
Panthers
LB
Jon Beason
is in
the middle of a civil trial
brought by a man who's suing Beason for allegedly hitting him at a strip club in 2009 after the man previously had accused Beason of snorting cocaine.
On Tuesday, Beason testified that he really, really, really wanted to hit Gregory Frye because he was so enraged – and, in fact, he even
tried
to hit him – but ultimately didn't touch him.
"There's no way I hit him," Beason said, via the
Charlotte Observer.
Closing arguments between the two sides' lawyers are scheduled for today, and then the jury (made up of eight women and four men) will deliberate and deliver a decision. More from the article:
The jury must also weigh testimony from a detective who said a criminal assault charge was not prosecutable because of a lack of witnesses and Frye's lack of credibility. The jury was not allowed to hear the detective describe an interview with a woman who said Frye had once plotted to provoke a fight with a pro basketball player so Frye could sue. …
Beason said he was "blown away" when friends told him at the strip club about Frye's allegations of cocaine use. Then, he said, he got angry and went to confront Frye.
"Your reputation is all you have. Your name is all you have," Beason testified.
That's when Beason said he and Frye bumped chests and then Beason went to hit Frye. But his personal chef held his arm and the punch did not connect. Beason also admitted he shouldn't have tried to hit Frye in the first place.
UPDATE 5:20 p.m. EST:
No verdict was announced Wednesday, per
Joe Person of the Charlotte Observer
. Court is in recess until Thursday morning.
For more NFL news, rumors and analysis, follow @cbssportsnfl on Twitter and subscribe to our RSS Feed.