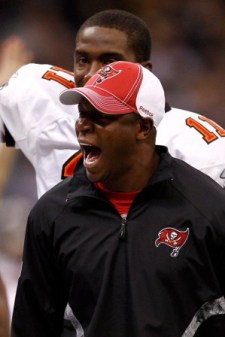 Posted by Josh Katzowitz
Last October,
Bengals
coach Marvin Lewis voiced his frustration at the
Buccaneers
signing one of Cincinnati's 2010 draft picks, WR
Dezmon Briscoe
, after the Bengals had cut him in the preseason.
It wasn't simply that
Tampa Bay signed him
and placed him on the practice squad. It was that the Bengals
really
wanted Briscoe back and that the Buccaneers gave him a contract worth more than three times what normal practice squad players earn ($325,000 vs. about $90,000).
But at last week's Marvin Lewis charity golf outing, Tampa Bay coach Raheem Morris said everything between the two coaches was just fine, thanks very much.
"That's business; this is about the community and the bigger picture," Morris told the
Cincinnati Enquirer.
"It's not about whether you have a disagreement on the field or whether I like him on game day. I wanted to come in for Marvin and be supportive of him because he's always been supportive of me."
Lewis didn't seem all that supportive in October when he said this: "(Briscoe) was in camp for us, but when you overpay a guy on the practice squad, you create a problem in the system for teams. I don't know that teams want to set the precedent and they did with Dezmon."
Not only did Lewis come off looking clueless about business in the NFL (and the risks of cutting a WR you actually want to keep), some of those words alluded to possible collusion among the teams. Apparently, somebody from the NFL office said something to Lewis, and from then on, he didn't make a peep about the issue.
Still, Morris looks up to Lewis and what he's accomplished.
"When you talk about guys that paved the way not only for coaches but young African-American coaches," Morris said, "he's been a consummate leader."
For more NFL news, rumors and analysis, follow @cbssportsnfl on Twitter and subscribe to our RSS Feed.