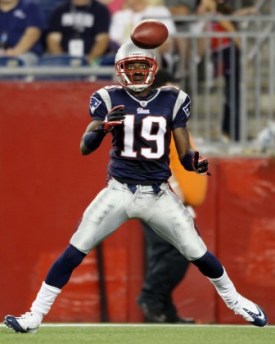 Posted by Ryan Wilson
It was a surprise when the
Patriots
took wide receiver
Brandon Tate
in the third round of the 2009 NFL Draft, but Bill Belichick is nothing if not unorthodox. Tate suffered a major knee injury during his senior season at North Carolina, and
reportedly tested positive for marijuana
at the 2009 Combine. But he offered size, speed and was an explosive returner. The plan was for him to redshirt his rookie season and contribute in 2010.
Plus, Belichick had made a nice living ignoring conventional wisdom and drafting players he felt best fit New England's scheme. Offensive lineman
Logan Mankins
(first round, 2005) and
Sebastian Vollmer
(second round, 2009) are recent examples.
In 10 starts last season, Tate had 24 receptions for 432 yards, including three touchdowns. The totals aren't particularly impressive, but the 18-yards-per-catch average gets your attention. Still, for NFL Films' Greg Cosell, it was clear from watching game tape that the Patriots' staff has concerns about Tate as an NFL wideout.
"Very often, the way players are used tells you how a coaching staff feels about them," Cosell told
CSN New England
's Tom Curran. "The way the Patriots use Brandon Tate tells that they don't think much of him at this point. He runs about three routes and the only time the ball comes to him is when a play is specifically called for him."
Cosell acknowledges that Tate is "big, he runs well, he's got good lateral quickness," but also points out that, "…in taking the spot of Moss, he was stepping in for someone who was as good a vertical receiver as we've ever seen. Tate has vertical skills but not
Randy Moss
vertical skills and that's why coverage was different for Tate after Moss left."
This is about what you'd expect from a second-year player getting his first crack at substantial playing time. It's not unusual for coaches to manage their expectations in such circumstances, and Cosell notes that the work stoppage is really hurting Tate's development.
ESPNBoston.com's Mike Reiss
adds that
the coaching staff's lack of faith in Tate can be traced back to Tate's inconsistency last season. "One stat that stands out is that he was targeted 46 times and totaled 24 receptions for a 54.3 target percentage, one of the lowest among the team's pass-catchers."
But as always seems to happen,
Tom Brady
, superhero, will fix everything. Reiss
reports
that Brady is in New England to lead players-only workouts starting Wednesday. Reiss: "While the value of player-led workouts during the lockout is debatable, many believe chemistry between a quarterback and receiver can grow during the offseason. … Not surprisingly, teammates have responded, according to sources, breaking from their personal workout regimens to join Brady."
The Pats drafted two wide receivers in 2009 -- Tate and seventh-rounder
Julian Edelman
, a college quarterback from Kent State who moved to wide receiver in the pros and immediately drew comparisons to
Wes Welker
.
Ultimately, Cosell thinks Edelman has the skills to replace Welker, but warns that Welker is "a very specific kind of player" who "is a function of the entire offense and what's around him."
That was easy to forget when New England was regularly hanging 30-plus points on NFL defenses. Then again, any offense with Brady as its centerpiece is automatically high-powered. Moss was proof of that. He was invisible in Oakland before Brady helped revitalize his career, and his production fell off a cliff after the Pats shipped him to Minnesota last season.
While Tate will benefit from offseason workouts, even informal ones, Patriots will be in good shape at receiver when the labor dispute is settled.
Deion Branch
joins Welker as a savvy veteran who intimately understands the offense. And tight ends
Aaron Hernandez
and
Rob Gronkowski
, rookies a year ago, accounted for 26 percent of all New England receptions in 2010. It's not like 2006, when Brady's top targets were
Jabar Gaffney
and Reche Caldwell. The Pats' offense is plenty potent, as evidenced by their 14-2 record in 2010.
For more NFL news, rumors and analysis, follow

@cbssportsnfl

on Twitter and subscribe to our

RSS Feed
.