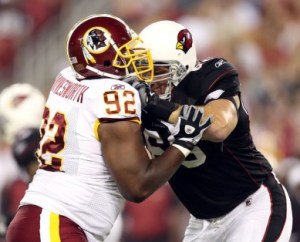 Posted by Josh Katzowitz
The "Albert Haynesworth is a lazy, worthless piece of garbage" stories are not difficult to find on the Eye on Football blog. Whether he's been
charged with sexual abuse,
accused of
road rage,
or
suspended for the last four games
of the season, it's actually pretty difficult to find a positive story about Haynesworth.
This post, thanks to
Redskins
defensive coordinator Jim Haslett, continues that theme.
Today, Haslett told 101 ESPN Radio in St. Louis (via
Pro Football Talk)
that Haynesworth basically is a worthless piece of garbage (he didn't say it quite that harshly, though).
"He can do almost anything he wants. He doesn't want to do anything. To me that's the issue," Haslett said. "He's one of those guys you walk in a meeting and you tell him, 'Put down the phone.' The next day you have to tell him to put down the phone. The next day, you tell him to put down the phone.
"You tell him, 'Don't read the newspaper in meetings.' The next day you have to tell him the same thing. It doesn't stick; it's an everyday thing."
It is possible to feel some sympathy for Haynesworth, because he was told he wouldn't have to play a 3-4 defense before the Redskins coaching staff decided to, you know, implement the 3-4 defense.
So, if you want to make the claim that the team went back on its word to Haynesworth, that's a fair point.
But the lack of professionalism (picking up his phone and reading the newspaper during team meetings? Really?!?!) apparently displayed by Haynesworth continues to astound. And when his defensive coordinator is the one calling him out, that's pretty darn telling.
For more NFL news, rumors and analysis, follow @cbssportsnfl on Twitter and subscribe to our RSS Feed.