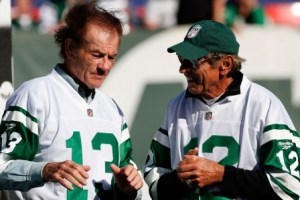 Posted by Josh Katzowitz
During the NFL Network's recent top-100 countdown,
Jets
coach Rex Ryan told the cameras that, when
Darrelle Revis
' career is complete, the top-flight CB will be known as the best player in franchise history, saying, "There's only one Darrelle Revis. There's not a better zone (corner). There's not a better man (man-to-man corner). You name the defense, he's the best at it."
ESPN New York
caught up with WR Don Maynard – who, along with QB Joe Namath – is considered one of the best Jets in history, and Maynard had an interesting theory about how he would have performed against Revis.
Asked if he could have taken Revis one-on-one, Maynard said, "Oh yeah. It doesn't matter if it was him or anyone else. I had a guy named Namath throwing me the ball. If he goes left, I go right. If he goes right, I go left -- the ball would be there. And I've never been caught from behind. That's why my book is called, 'You Can't Catch Sunshine.' (Revis) is like Deion Sanders. I would've loved to have played against those guys."
I assume the Sanders comparison is a compliment. But Maynard also realizes it's impossible to line up players side by side if they didn't play in the same era.
"Everybody has his own opinion," Maynard said. "It's like a basketball official calling a ball game. When he blows the whistle, he pleases one team and displeases another. I'm not judging any of them. Whatever (Ryan) says is his business … I'll say this: Our credentials speak for themselves. We wound up in the Hall of Fame."
For the record, Maynard played from 1958-73. He led the AFL in 1965 in touchdowns (14), and in 1967 he led in receiving yards (1,434). He made four Pro Bowls before he was elected into the Pro Football HOF in 1987. His 88 career touchdowns still rank 10th-best all time.
For more NFL news, rumors and analysis, follow @cbssportsnfl on Twitter and subscribe to our RSS Feed.