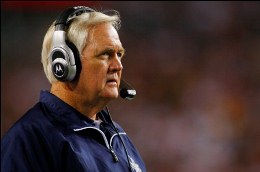 Posted by Josh Katzowitz
The other day, I caught legendary coach Bum Phillips on the phone for a 45-minute chat, and briefly, I asked about his son, Wade, and how he thought the
Texans
would adjust to running the 3-4 defense that Phillips will install.
Not surprisingly, Bum said he thought the adjustment would be smooth – even if DE
Mario Williams
, who's been much more effective in a three-point stance than standing as an OLB,
will have to get used to a new position.
Yet, Ira Kaufman of the
Tampa Tribune
isn't so sure.
As Kaufman writes, the lockout has played havoc because Phillips and head coach Gary Kubiak, just like every other coach and defensive coordinator in the league, can't communicate with their players.
Considering Phillips basically was hired in order to send Houston to the playoffs for the first time, this doesn't bode particularly well (of course, on the other hand, the Texans' future opponents aren't communicating with each other either).
As Kaufman writes:
Phillips has proven to be a pedestrian head coach in several NFL outposts, but he's also an effective assistant who can make a difference and save Kubiak's job.Unfortunately, his timing is lousy.This lockout is having a particularly debilitating effect on a Houston franchise that took a major step backwards last season.It's in (owner Bob) McNair's interests to get this lockout lifted as quickly as possible so Houston coaches can get to work on a daunting turnaround project.Tick tock, Wade.For more NFL news, rumors and analysis, follow @cbssportsnfl on Twitter and subscribe to our RSS Feed.