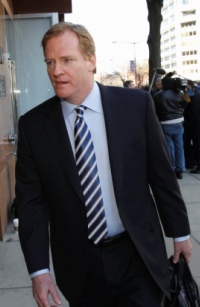 Posted by Josh Katzowitz
Now that the owner's meeting in Chicago is adjourned after a five-hour talk between all 32 today, commissioner Roger Goodell spoke to the assembled media masses and sounded somewhat optimistic.
"It was a good day in the sense that we had a full discussion on the issues and I think our ownership continues to be determined to reach an agreement and play that full season," Goodell
told reporters.
"They are united. They believe that in the best interest of the game we need to correct various aspects of collective bargaining. Everyone's determined to try to get that done and still have the full 2011 season."
The owners aren't staying overnight in Chicago -- Goodell said not to read anything into that -- but
they discussed a long laundry list
of ideas and proposals for the new CBA. Some of those owners and Goodell are also planning to meet with NFLPA executive director DeMaurice Smith Wednesday and Thursday in the Boston suburbs, according to various reports.
While the owners weren't expected to vote on a new deal today, it's not out of the question they could do so soon after the meetings in the Northeast.
"There's a lot to be done," Goodell said. "Obviously you'd want to have the agreement fully negotiated and reflected in the documents. Secondly, you'd have to go to the various bodies, the players and there is some litigation involved with this ... that would have to get resolved also. Those steps would have to take place and would be done on an expedited basis as possible.
"I think the ownership has a better understanding of the framework and I think we have a better understanding of the various issues and priorities within the membership. Obviously, we are negotiating with the players and the Players Association and that's what we'll resume doing."
But what about the fans? Are you worried that they're getting anxious about whether they'll see football in 2011.
"I speak to fans all the time and the anxiety level is very high," Goodell said. "I think the best thing I can tell them at this stage is we're working as hard as we possibly can and we'll go the extra mile to try to reach that agreement. We know how important football is to fans, and we want to deliver on that."
For more NFL news, rumors and analysis, follow @cbssportsnfl on Twitter and subscribe to our RSS Feed.