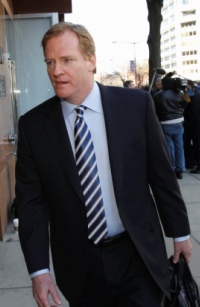 Posted by Josh Katzowitz
When the NFL lockout ends, what will the league do about the players who were arrested* and potentially violated the personal conduct policy?
*There were a ton of them after all -- and that was just Titans WR Kenny Britt!!
It sounds like, as NFL spokesman Greg Aiello tells the
Tennessean
, the league will act as if the personal conduct policy applied all along and punish those offenders who were naughty during the lockout.
"The personal conduct policy is not part of the CBA," Aiello told the paper. "It is a league policy established by the commissioner. We review any violations of law by NFL employees for potential discipline. The personal conduct policy is not being applied to players now but will be applied when they return. Players will be held accountable for violations of law that occurred during the lockout."
Personally, I don't see how the NFL can enforce that (well, I
can
see how, considering the NFL makes its own rules; I just don't agree with it), especially since the NFL is actually preventing the players from working.
So, how fair is this tact, assuming the league actually punishes players?
The
Tennessean
talked to a couple of sports legal experts. One of them agreed with Aiello's take on the matter, saying the players were still employees of the league, even during a lockout. But the other, a sports law professor at Vermont Law School, had another take.
"They've frozen the employment of NFL players," McCann said. "So … the players will likely say, 'If we're not getting paid, then we're not obligated to follow our contracts. You're preventing us from obtaining our employment benefits, so why should we have to satisfy our employment obligations?'
"That's what employment is -- a series of benefits and obligations."
But if the NFL doesn't see it that way, the league isn't going to care. Unless somebody sues somebody else, and the court system gets to decide who is right and who is wrong.
Because so far during the lockout, that tactic has worked so efficiently.
For more NFL news, rumors and analysis, follow @cbssportsnfl on Twitter and subscribe to our RSS Feed.