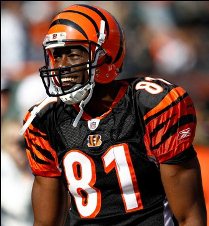 Posted by Josh Katzowitz
Apparently, the revelation that
Bengals
WR
Terrell Owens
tore his ACL doing … well, something and underwent surgery that could keep him out
as much as six months
was not news to
Ravens
WR
T.J. Houshmandzadeh
. He told the
National Football Post
he's known this fact for months.
"Hopefully, it's not too severe and he'll be back soon," Houshmandzadeh said. "He had a good year last year. I wouldn't ever count him out."
Houshmandzadeh is right. Owens had a solid season last year, wrestling the Bengals No. 1 WR spot away from
Chad Ochocinco
and catching 72 passes for 983 yards and nine touchdowns. He'll turn 38 in December, but as of last season, he still was a legit player in the league.
CBSSports.com's
Mike Freeman has already reported that Owens has talked with several people about the possibility of retiring, but it also wouldn't be a shock to see Owens try to return for another season (especially since his agent, Drew Rosenhaus, has been saying that very thing today).
"He just speaks his mind," Houshmandzadeh said. "Sometimes, guys have something to prove. He has proved a lot. When I first met T.O., he was always real cool with me. I never had a problem with him. They talked about him like a dog in the media, but T.O. is a good dude. People just don't know him the way players in the NFL know him."
Yes, I'm sure
Donovan McNabb
and
Tony Romo
would be more than happy to vouch for Owens being "a good dude."
UPDATE (1:06 p.m. ET):
According to the
AP,
via ESPN's Sportscenter, Rosenhaus said Owens could be good to go by August.
"The old injury has been repaired," Rosenhaus said. "He is many months into recovery and doing fantastic. No predictions on training camp, but he comes back fast from injuries. I won't rule him out of anything. He will be a starting receiver for someone this year."
For more NFL news, rumors and analysis, follow @cbssportsnfl on Twitter and subscribe to our RSS Feed.