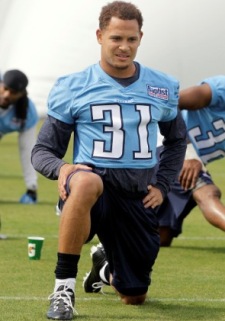 Posted by Josh Katzowitz
Cortland Finnegan
seems like a tough guy to figure out. The
Titans
DB doesn't have the best reputation among players (he's considered one of the dirtiest guys out there,
and he fought
with the usually-calm
Andre Johnson
last year), but he's vowed to change his ways and he
befriended a high school volleyball player
stricken with a rare type of cancer.
But on Monday, he readily showed that, once again, he still has some growing up to do, admitting to reporters, including
Rapid Reporter
Matt Rybaltowski, that his absence from practice Saturday was because of a contract dispute.
As
CBSSports.com's
Ryan Wilson explained Sunday, Finnegan left Titans camp Saturday, apparently upset at a contract that will pay him $3.7 million this year.
But on Sunday, Finnegan wrote on his Twitter page that, despite coach Mike Munchak saying he didn't know why Finnegan had left, his absence had nothing to do with a holdout. Instead, it was "a personal matter that Titan officials were aware of … I am grateful for being a Titan … I am also thankful for my current contract and direction of team. It's obvious media had no idea of why my absence took place. … I have spoken with coaches and teammates and will resume all things asked. Sad to see media made this out to be about money when I'm happy."
Also: "Media gets paid to report never knowing but one side of a story. My personal issues needed attention and I will be out there playing ball."
Naturally, all of that was a lie.
"I let the emotions get the best of me," Finnegan said today after apologizing to his teammates, team management and the media. "I had to take a step back personally, talk to my wife and see what the next step was for me."
Finnegan also said he wants to retire a member of the Tennessee organization, and he hopes that his short absence doesn't destroy his chances of landing a long-term contract (Munchak has said it won't).
So, was it just bad advice from Finnegan's agent, then?
"Ultimately a player is responsible for his actions and what he decides to do," Munchak said. "I think it's hard for us to know."
Finnegan just doesn't make it easy for anybody to know what's going on in his head.
For more NFL news, rumors and analysis, follow @cbssportsnfl on Twitter and subscribe to our RSS Feed.