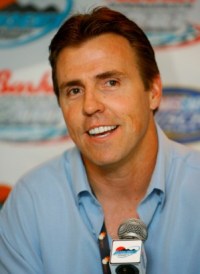 Posted by Josh Katzowitz
Apparently, the quantity of people (if not the quality) who decide to spew vile all over
Vikings
QB
Donovan McNabb
continues to grow.
You remember Bill Romanowski, right? He was a two-time Pro Bowler, but he was also a jerk, kicking opponents in the head, spitting in other people's faces and ending a teammate's career by blasting his eye socket. So, good dude, right?
And it makes him the perfect person to comment on somebody with whom he never played, right? Right? Hello?
Either way, Romanowski was on Jim Rome's radio show today and, well, he acted just like you'd expect -- he did his best
Bernard Hopkins impersonation
and ripped the hell out of McNabb for, as far as I can tell, no reason at all.
"The reason why Donovan McNabb is not in Washington right now is because he was lazy," Romanowski said, via
PFT.com
. "He didn't spend the time. Mike Shanahan likes guys who will work really hard. I narrow it down to two things. He's either lazy, or he's not very bright to pick up the offense. One or the other. I think he's bright enough, I just think he was lazy."
And, just for the hell of it, Rome asked how Romanowski would act around
Broncos
QB
Tim Tebow
?
"I would want to lay him out and put him into next year," Romanowski said. "I'd have him so messed up mentally he'd be like, 'Oh, God, this Romanowski is crazy.'"
Um, crazy wasn't the word I was thinking about.
For more NFL news, rumors and analysis, follow

@EyeOnNFL

on Twitter and subscribe to our
RSS Feed
.