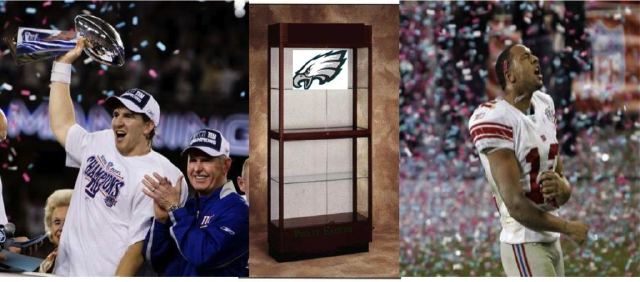 Posted by Josh Katzowitz
The reaction to the
Eagles
signing of former
Giants
WR
Steve Smith
has stirred emotions across the NFC East. We thought
it was a strong signing
by Philadelphia's front office, and it was interesting that Smith revealed that the Eagles showed "MUCH more" interest than the Giants did in signing him.
That led to Giants fans lambasting Smith -- coming off microfracture surgery on his knee that could keep him out the early part of the season. Smith wrote Thursday on his Facebook page: "Instead of cursing at me and wishing my family and my knee harm, i wish you could understand that i truly wanted to stay here but that the giants DIDN'T want me here unfortunately.. thank you to my true fans for standing by me and offering your support during this time."
Even some of his old teammates got into the act.
Via the
Philadelphia Daily News
, Giants CB
Terrell Thomas
tweeted the following: "Hate to see a [Steve Smith] sign with any team. But glad we get to play against him two times a year and show him the grass ain't GREENER* on the other side."
*As an aside, I think that tweet would have been more effective if Thomas had put "ain't" in all caps instead of "greener." Like this: "But glad we get to play against him two times a year and show him the grass AIN'T greener on the other side." See what I mean?
Meanwhile, New York coach Tom Coughlin pointed out to reporters that Smith's surgery was performed by a Giants team doctor, and the
New York Post's
Bart Hubbuch tweets that Coughlin sounded betrayed by that notion. Coughlin also said the Giants never had a chance to match the Eagles offer of one year, $4 million ($2 million of that guaranteed) and that Smith's representation told the Giants they would have a chance to counter. He said it was akin to competing in a race that you didn't know had started yet (to be fair, though, the Giants had plenty of time to sign him once free agency began).
We have yet to see how Eagles RB
LeSean McCoy
-- who engaged in a Twitter war with New York DE
Osi Umenyiora
, which then led to Smith getting involved and posting a pretty sweet picture of him celebrating the Giants Super Bowl victory while featuring an empty Eagles trophy case (as you can see in the above picture) -- reacts to his newest teammate. But Smith is pretty sure everything will be cool between the two.
"Yeah, it's going to be funny," Smith said Wednesday night during a conference call with reporters. "I'm going to go up to LeSean the first day I see him and just shake his hand and give him a hug and tell him that was all just Twitter beef and it was just all in fun. And you know, it's just a great rivalry and I'm thankful to be a part of it. And having switched sides it's a little different but still it will be exciting to see what it's like on this side."
The
Newark Star Ledger's
Mike Garafolo also had interesting analysis on why the Giants let Smith get away to an intra-divisional rival, writing, "I'm completely baffled on this one. What is going on in the Giants' front office? I mean, seriously, what is going on right now? I'll tell you what's going on: for the first time, Jerry Reese's seat must be getting warm. … How do you let Smith become so discouraged by your efforts to retain him that he goes to see your arch rivals?"
Garofolo then argues that Smith was a potentially valuable asset who the Giants should have squared away (even if Smith had to miss half the season while recovering from his surgery).
Instead, Smith goes to the Eagles, and once he gets his hug from McCoy, he can begin the process of finding a place in a WR corps that includes
DeSean Jackson
,
Jeremy Maclin
and
Jason Avant
. The Eagles just got a little bit stronger, while the Giants, competing for the same NFC East title, potentially let a star get away.
For more NFL news, rumors and analysis, follow

@EyeOnNFL

on Twitter and subscribe to our
RSS Feed
.