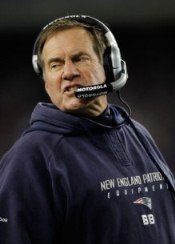 Posted by Josh Katzowitz
With the new NFL rules stating that kickoffs are to be taken from the 35-yard line instead of the 30 -- though the
Bears
didn't feel they
needed to follow that rule
, since apparently they wanted to work on their kickoff coverage -- it seems pretty clear the NFL wants to reduce the number of returns that can be taken.
In fact, as we wrote last March, the reason the rules competition committee wanted to make the change in the first place was
because of safety concerns
. But according to
Patriots
coach Bill Belichick, the league has an ulterior motive for making the change to kickoff placement.
The NFL wants to eliminate kickoffs entirely.
During a session with the media Tuesday, one questioner, according to
CSN's Tom E. Curran
, began a query this way: "If the intention of the NFL is eliminate kickoffs …" Belichick quickly interrupted.
"That's what they told us," Belichick said. "I'm not speaking for anyone else. That's what they told us, that they want to eliminate the play."
Which would fundamentally change the game in a way that is not completely impossible to fathom but which critics could claim also turns the NFL into more of a flag football league. Even if that supposed philosophy never comes to pass, Belichick talked about the current system, in which teams might build rosters differently if kickoff returners won't make as much of an impact.
"If, instead of covering 60 kickoffs in a year you think you're only going to be covering 30, then is that coverage player as important, or -- on the flip side of it -- is the return game?" Belichick asked (presumably in the rhetorical sort of way). "If you're going to be returning 30 instead of 60, are the guys who block on the kickoff return (as important)? If you think you're going to be returning more punts than kickoffs (there's a decision to weigh). Usually you're going to be returning more kickoffs than punts but if you think you'll be returning more punts than kickoffs, then maybe you put more of a priority on your punt returner than your kickoff returner."
To be fair, NFL spokesman Greg Aiello had this to say to CSN regarding Belichick's claim that the league wants to squash kickoffs: "(Chairman of the Competition Committee) Rich McKay and (NFL Vice President) Ray Anderson say that's not accurate. They said the Competition Committee's position was that they wanted to 'shorten the field' and that the movement of the kickoff line would potentially reduce the number of kickoffs to be returned. They said they are unaware of anyone saying that it was intended to 'eliminate' the kickoff return."
But if that
was
the case and the NFL really
does
want to eliminate kickofs, you can bet teams like the Bears (because of KR
Devin Hester
),
Browns
(because of
Josh Cribbs
) and the
Seahawks
(because of
Leon Washington
) who are already
not pleased with the new rules
will be really, really unhappy.
For more NFL news, rumors and analysis, follow

@EyeOnNFL

on Twitter and subscribe to our
RSS Feed
.