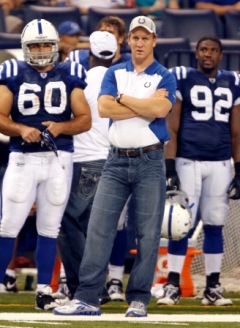 Posted by Josh Katzowitz
If there isn't panic these days in Indianapolis about the future of the
Colts
quarterback position, perhaps there should be.
Peyton Manning
, coming off neck surgery, hasn't practiced yet, and though it's too early to gnash your teeth about Manning's newly-signed
five-year, $90 million contract
, Colts fans have to be worried about his long-term health.
Not to mention the long-term prospects of the rest of the Colts quarterbacks.
Curtis Painter
, Manning's long-time backup, still hasn't proved he can be a starting QB in this league, and one of the few passes I saw
Dan Orlovsky
throw during Indianapolis' putrid loss to the
Redskins
on Friday was a terribly underthrown ball that was intercepted by Washington.
And if you're not concerned about it,
Indianapolis Star's
Bob Kravitz explains why you should be.
Writes Kravitz: "There are three weeks remaining before the regular season begins, and unless Manning is back within a week, it's fair to worry whether he'll be ready to roll when it counts. (If you're asking when Manning will return, here's the answer: I. Don't. Know. And I'm not sure Manning and the doctors know just yet, either.)"
This hasn't ever really been an issue for Manning and the Colts. He's been remarkably durable throughout his career, and the Colts have ridden his talent to nine-straight 10-win seasons and nine-straight playoff appearances. But does anyone think that, if Manning can't play right away, Painter or Orlovsky can step in and play half as well? That the Colts could still compete for the AFC South title? Of course not.
Which leads Kravitz to question the Colts plan when it comes to backup quarterbacks. He talked to GM Chris Polian about it.
Peyton's Place ... on the sidelines?
"You get into the philosophy of, 'Do you want an experienced guy who may not be able to stay healthy if he had to play more than a couple of games, or a young guy with talent who's got a chance to ascend?'" Polian asked. "Part of what makes the backup quarterback position unique is more than physical qualities: What's the guy's contribution going to be in the meeting room? What's his role going to be in practice? Is he OK with what his role is going to be?
"Traditionally, because of the way Peyton wants to prepare, the backup doesn't get much work outside of training camp. And that's fine; I'm not going to complain about the results. But when we've inquired about vets in the past, there have been some financial limitations. This is not the best, most appealing spot for a guy who says, 'If somebody gets hurt and I can play four games, I can play somewhere else next year.' This is more of a destination spot, so that's led us a little more to the younger guys."
Or as owner Jim Irsay, who says Terrelle Pryor isn't an option,
tweeted Saturday
, "We r evaluating the QB sitch,#18 healing but we got 2 b prepared 4 early season possibility without him,defense has 2 pick it up,big time!"
If Manning can't get healthy quickly, the Colts plan might need to change. And fast.
For more NFL news, rumors and analysis, follow

@EyeOnNFL

on Twitter and subscribe to our
RSS Feed
.