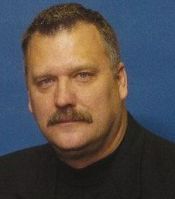 Posted by Josh Katzowitz
Thanks to Tom Kowalski's standing as the most-tenured
Lions
beat reporter, he was always the first to ask a question during coach Jim Schwartz's news conferences. Schwartz made sure to honor that tradition after learning that Kowalski had died today at the age of 51.
Kowalski reported for MLive.com and Booth Newspapers, and he turned in a completed story sometime this morning (this was
his last article
). He later was found unresponsive by his fiancé and was pronounced dead at Huron Valley-Sinai Hospital in Commerce Township, Mich.
Said MLive sports editor Bill Emkow
to the web site
: "My heart broke this morning when I heard the news. I love Tom Kowalski. He was my friend. I trusted him, and I know he trusted me.
"He is the first reporter that bought into what we were doing with MLive.com. I needed someone to buy into what we were doing online, and he was the huge star for Booth. I don't know why he listened to me, but he helped make MLive what you know it as today."
After Lions practice, Schwartz honored Kowalski in his own way, by maintaining a moment of silence with the press corps (he had previously done the same when he told his team the news) before moving on to the "second" question of the day.
"I'll just say this about Tom," said Schwartz. "The one thing he always tried to do was get it right. He knew football and he always wanted to get it right and we had a lot of respect for that."
Personally, I always thought Kowalski, whom I had never met, was a wonderful reporter and a pretty damn good tweeter. Witness his last original tweet, which referenced
The Princess Bride
, he wrote before signing off on Monday night.
"OK fellas, here we go ... Sleep well, I'll most likely kill you in the morning ..."
Photo courtesy of MLive.com.For more NFL news, rumors and analysis, follow

@EyeOnNFL

on Twitter and subscribe to our
RSS Feed
.