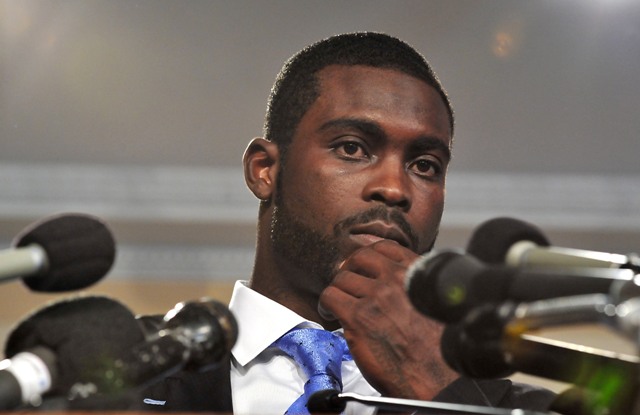 Posted by Josh Katzowitz
Michael Vick
: take your place alongside
Tom Brady
and
Peyton Manning
. Not so much for the consistency you've provided or for the championships you've won. But for the amount of money you make.
The
National Football Post's
Andrew Brandt is reporting that Vick and the
Eagles
have agreed to a six-year, $100 million contract, and
ESPN's
Adam Schefter writes that the deal includes about $40 million of guaranteed money.
His deal, if you look at it from an average salary per year aspect, is less than Manning (five years, $90 million, $54.5 million guaranteed), but it's comparable to Brady (five years, $78.5 million, $48.5 million guaranteed).* At the very least, it's in that same stratosphere.
*To contrast, Kevin Kolb, who was ejected from Philadelphia by Vick, went to the Cardinals and got a $63 million deal with a $20 million guarantee.
Which is amazing considering where Vick was at this time two years ago: in prison for dog fighting and with a future that was extremely uncertain.
Now, as
CBSSports.com's
Mike Freeman writes, Vick is that much closer to redemption. But it's also a somewhat-curious decision by the Eagles, aside from the report that the new deal lowered Vick's cap number by about $2 million (Vick had been playing under the franchise tag).
Obviously, Vick's talent level and athleticism are second to none, but you have to wonder about two aspects of his game:
1)
Is he brittle? Last year, he showed that, yes, he is injury-prone when he decides to tuck the ball and run. Vick has a tough time playing the way a quarterback should play when he's scrambling (namely, sliding feet-first and getting the hell out of danger at the first sign of it). That's a concern.
2)
Vick's detractors point to his trouble in reading NFL defenses. Which is not what you want to see if you're paying $100 million to your quarterback.
I guess the big question is whether Vick was worth this kind of money. At this point, it's impossible to know, but if I had to guess, I'd lean toward "probably not." Remember, the
Falcons
gave Vick a $100 million deal in an earlier life. It didn't work out so well for them. Vick's a different person now, but he's older too. One year of playing football in his post-prison life might not be enough to know whether Vick deserves this much money.
For more NFL news, rumors and analysis, follow

@EyeOnNFL

on Twitter and subscribe to our
RSS Feed
.