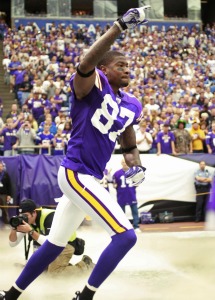 Posted by Josh Katzowitz
Vikings
receiver
Bernard Berrian
has had a terrible start to the season. In four games, he's got exactly two receptions, and considering he's coming off a 28-catch season in 2010, he has to be wondering how much time he's got left on Minnesota's roster.
Which probably means he's pretty crabby, which is probably why he lashed out at a Twitter follower's statement that was actually somewhat mild. Thing is, Berrian didn't know that the Twitter follower in question is actually, according to the
Minneapolis Star Tribune
, a Minnesota state legislator who's trying to get the Vikings a new stadium.
It all started when Berrian agreed with a follower who had written that he was constantly open on Sunday by writing, "Been like that the past four years." That prompted Rep. John Kriesel, who co-sponsored the bill to open a new stadium in Arden Hills, to tweet this: "If you want to follow a hilarious twitter account, try @B_Twice who says that he's open a lot and should get the ball more."
Responded Berrian: "Anytime u wanna watch the film with me. Not just one game but all of them. ... and if not sit down n shut up!!"
The problem with that -- and this is where it gets awkward -- is that Kriesel is an Iraq war veteran who lost both of his legs.
Berrian called Kriesel this morning to apologize, and Kriesel later said, "I'm a big boy. I can handle myself. I ripped him, he ripped me back. We had it going back and forth on Twitter a little bit. I have fun with Twitter. I'm over it. I was never offended by it."
And, of course, Berrian had no idea who Kriesel was or what his story is.
So, everybody is cool with everybody else, and it seems like this story will get lost in the atmosphere sooner rather than later. But it's a pretty good reminder for an NFL player who likes to get on Twitter. Maybe you're just better off if you completely ignore your mentions. You never know when you're going to make yourself look like a fool by telling a man without legs who served his country to sit down and shut up.
For more NFL news, rumors and analysis, follow

@EyeOnNFL

on Twitter and subscribe to our
RSS Feed
.