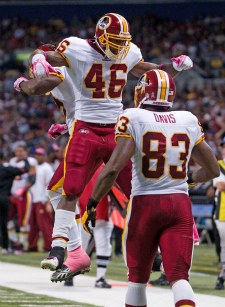 Posted by Josh Katzowitz
There was a time -- and it wasn't long ago -- when we all kind of thought the
Redskins
were going to stink and the
Eagles
were going to be awesome, and Washington had no business thinking it had a shot at winning the NFC East.
And when
Rex Grossman
gave us
this prediction
, "When it's all said and done I really feel like we're going to win the NFC East," we all kind of shook our heads and laughed.
But now that Washington is 3-1 and tied for first place in the division, coach Mike Shanahan wants to make sure his team knows not to buy into the media hype. Even if, ahem, Grossman was the one to start it.
"The one goal that I tell our players and our coaches is that you have got to take it day-by-day," he said, via the
Redskins official site
. "Once you start listening to how good you are or how great the defense is doing or how poorly an offense is doing week-by-week, it's easy to get lulled into a trap. Don't get lulled into a trap. Just concentrate on the job at hand. Try to find a way to win and get better every day. Don't listen to people that are negative."
That's probably good advice, because people, like myself today on Hawaii radio, are saying that the Redskins are likely to fall off. And the reason why? Maybe Grossman, as
CBSSports.com's
Mike Freeman explains here: "Rex Grossman is sure to doom the Redskins eventually. It will happen because he's Rex Grossman. He will always let you down …"
More from Shanahan telling his team to lay off the gas pedal of positivity.
"This is a game-by-game league," he said. "You're saying we arrived on defense -- it takes one game for it to go the opposite way very quickly. It does the same thing on offense. Our guys are smart enough to understand what happens in this league. I try to tell our guys, 'Don't pay attention about what anybody says. Understand that we've got to do it each and every week, and you've got to find a way to win. You've got to find a way to be at the best at what you do.' And at the end of the season, we'll decide on what type of team we have."
Unless, that is, Grossman wants to just go ahead and tell us what he thinks right now.
For more NFL news, rumors and analysis, follow

@EyeOnNFL

on Twitter and subscribe to our
RSS Feed
.