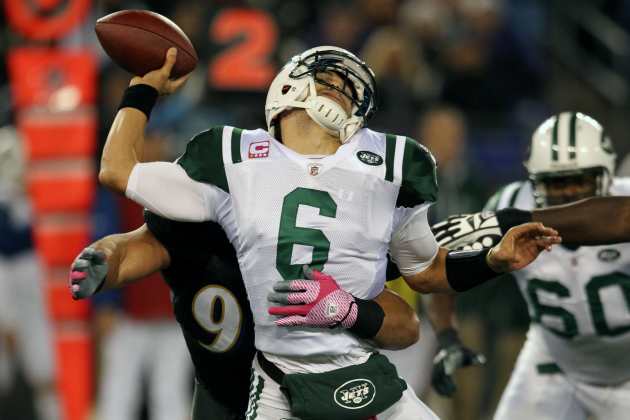 Posted by Josh Katzowitz
The
Jets
have the most important game of their young season this Sunday when they travel to New England to face the
Patriots
. Lose, and they're 2-3, stuck behind the Patriots and the
Bills
(and maybe in not that exact order!) in the AFC East with about 1/3 of the season gone. Win, and they give New England their second loss and, if the Bills lose, New York would join a three-way tie for first place.
But with the way the Jets were embarrassed last Sunday vs. the
Ravens
, is there really a reason to believe they can recover to beat New England? Can Rex Ryan save the day?
"I don't know if he can take the pressure off his team this week," said "NFL on CBS" lead analyst Phil Simms, who will be covering the New England-New York game. "Everything has changed. He's in a scenario now that he has never been in since he's been a head coach. It will be interesting to see how they approach the game and what their overall philosophy will be for this game. How is Rex going to manage it? Do they still think they're going to open up the offense and be a throwing team? Or are they going to go back -- it's hard to switch in mid-season? It can't be cured in one week. They just have to get the ship going in the right direction this week."
One problem with the Jets opening up the offense with the pass is that quarterback
Mark Sanchez
was dominated by Baltimore last week.
In the Jets 34-17 loss, Sanchez was 11 of 35 for 119 yards and an interception and seemingly was put on the ground after every play. But this week Ryan promised a return to the ground-and-pound game, which will take pressure off Sanchez and make New York much less one-dimensional.
"When your offensive line is in trouble, your quarterback is going to be directly affected by how many times he gets hit, and that shows in his performance," Simms said. " Look at what he did against the Baltimore Ravens. If you go back and dissect that game, there were probably nine throwaways, minimum, and at least six throws he had no idea where he was throwing because he was getting hit upside the head at the same time. I'm not exonerating him from everything, but you surely can't judge what he's doing based on what he was presented against the Baltimore Ravens."
Simms makes a good point about New York's offensive line. With
Colin Baxter
struggling at center to replace
Nick Mangold
– who is slated to return this week – and with
Vladimir Ducasse
in the game, New York couldn't stop Baltimore's front seven from doing whatever it wanted, whenever it wanted vs. the Jets.
"In the NFL, when there is a weakness in your offensive line, it doesn't hurt your offense, it hurts your whole football team," Simms said. "It hurts your quarterback, the receivers, the running backs, the situations your defense plays in. Right now, the Jets have a few obstacles to overcome. "
For more NFL news, rumors and analysis, follow

@EyeOnNFL

on Twitter and subscribe to our
RSS Feed
.