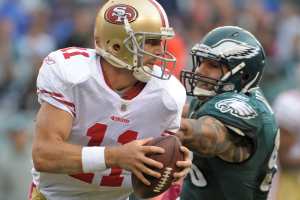 Posted by Josh Katzowitz
Every Wednesday and Thursday during the NFL season, we get word that players from across the league have been fined for various illegal activities they had engaged in during the previous Sunday. Players are usually upset by the league's actions, but most don't raise a big stink.
Philadelphia's
Jason Babin
has officially raised a big stink, upset by the $15,000 charge he incurred for his hit on
49ers
quarterback
Alex Smith
that drew an unnecessary roughness penalty, and he let reporters know that he thought the fine was ludicrous.
"It's not like it was a late hit, it's not like it was a malicious hit," Babin said via the
Philadelphia Inquirer
. "The funny part was on that play
Trent Cole
was high-lowed ... and you can tell that [the 49ers] game planned it. So how are they going to fine me when you see a coach and players game plan to high-low arguably our best pass rusher on our team? That's a little sickening."
Two other reasons Babin -- who leads the league with seven sacks -- was perturbed. He thinks the NFL doesn't like the way he plays the game and because he thinks the fine system seems so random.
"I don't think they like the way I play at all," Babin said. "I'm pretty sure they get nervous every time because they know I'm throwing and someone gets hurt. But that's what got me paid, that's what got me where I am today. I'm not going to change."
And as far as the inconsistency in the fine system?
"Oh, I'll call that one ($15,000), I'll call that 40," Babin said. "There's no blueprint, there's no grid system to say, 'OK, this is how it works, let's plug it in.'"
So far for the
Eagles
, the only thing they know for sure when it comes to NFL fines is that whoever hits
Michael Vick
won't have to worry about incurring one.
"That's crazy to me," Babin said. "If I get fined for that, we should have plenty thrown for Mike."
For more NFL news, rumors and analysis, follow

@EyeOnNFL

on Twitter and subscribe to our
RSS Feed
.