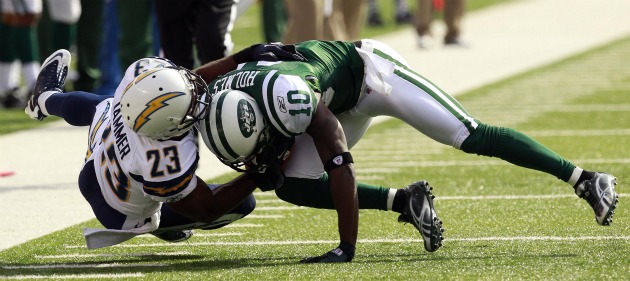 Posted by Josh Katzowitz
You can forgive fans (well, almost forgive them) for complaining about referees and thinking (no, truly believing) that the officials are out to screw over their teams for whatever reason. Maybe players think that way too, but it's uncommon to hear a player emote the things that
Chargers
cornerback
Quentin Jammer
said after the
Jets
27-21
victory against San Diego.
"I don't have to say anything about what the refs did -- everyone saw how the calls went," Jammer said, via the
New York Post
.
Then, of course, Jammer went on to say many things about what the refs did, especially when he was asked if the officiating was consistent.
"Yeah -- consistently bad," he said. "No way it was called fairly. No way. Not at all. It wasn't called fairly at all. Maybe I'm being biased, but I'm just judging off what I saw. It wasn't a fair game called."
Well, yeah. Jammer
is
biased. His team lost a game it felt it should have won. Quarterback
Philip Rivers
and the offense did nothing in a 2-minute drill at the end of the game, and the Chargers fell to a Jets team that managed to score its biggest win of the season.
Jammer made the point that the Chargers had zero penalties called on them in their previous game, but then got nailed 13 times for 95 yards vs. the Jets, who were penalized eight times for 60 yards.
"How does a team just get sloppy like that the very next game?" he said. "The answer is, it doesn't."
Well, that's ludicrous. Every team has the ability to get sloppy. Look at the
Ravens
, who are 4-1 and one of the favorites in the AFC but looked terrible in Week 2 against the
Titans
. With the exception of the
Packers
, teams can look great one week and crappy the next (it's called parity, baby, and the NFL loves it!). Teams can avoid penalization one week and get tagged with 13 the next game.
Is that so difficult to believe, especially when five of those flags were for either offside or neutral zone infractions, a penalty that's tough to dispute? Apparently so. Therefore, the officials get placed in the crosshairs.
"They were bad," safety
Eric Weddle
said. "Really bad."
For more NFL news, rumors and analysis, follow

@EyeOnNFL

on Twitter and subscribe to our
RSS Feed
.