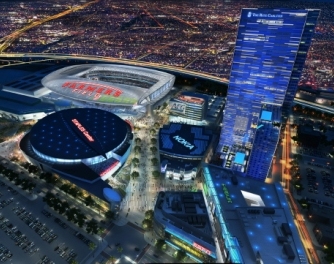 Posted by Josh Katzowitz
Could the
Vikings
be inching closer to possibly leaving Minnesota and moving somewhere else? Like, to say, Los Angeles?
We've written about the possibilities of building a new stadium in Minnesota to house the Vikings once the lease with the Metrodome is complete after this year, but the fight to secure money to actually build a new stadium has stagnated.
And the Vikings are not pleased about it, issuing a terse statement Wednesday night that read the team is "concerned" about the matter and that the public has had 10 years to debate the issues.
As the
AP
reported Tuesday, Gov. Mark Dayton had pledged not to raise taxes in order to secure the additional funding for a new stadium. Stadium supporters on the Ramsey County Board had proposed to raise the sales tax by a half-cent in order to raise $350 million needed, but Dayton said he won't allow that.
That means, a vote by the citizenry can't be held until November 2012 on whether to raise the taxes. The two problems with that? That's long after the Vikings organization wants construction to begin on a new site, and there's a good chance voters wouldn't approve the tax increase anyway.
The proposed site in Arden Hills would cost about $1.1 billion, and the state and the team have pledged to donate their fair share to the project -- Minnesota would put in no more than $300 million and the Vikings $407 million. But they're about $350 million short, and if the voters don't want to pay their share, a new stadium could be built at a different, cheaper Minneapolis-area location. Or the Vikings could move the team altogether.
Here's the Vikings take on the matter, released in that statement Wednesday evening.
"The Vikings are concerned about the turn of events surrounding a stadium solution in Minnesota. While we have been encouraged by the efforts of Governor Dayton and the four caucus leaders to seriously discuss this issue, these recent developments are very disappointing. The Vikings stadium issue has been heavily debated in the public for over 10 years. With less than 90 days left on the team's lease, the urgency to act is on us. The Vikings continue to stand ready to work with State leaders on a stadium solution that works for Minnesota and the team."
Otherwise, the West Coast might start to look awfully appealing.
For more NFL news, rumors and analysis, follow

@EyeOnNFL

on Twitter and subscribe to our
RSS Feed
.