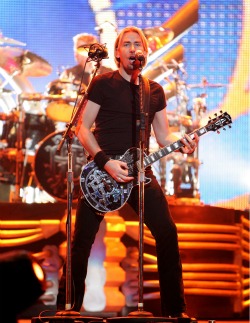 Posted by Josh Katzowitz
While we all can have our own tastes in music and individually decide whether certain groups should be playing at certain halftime shows*, I think we all can agree on one indisputable fact.
Nickelback should never be allowed to play anything anywhere.
*For instance, I ripped the selection of the Black Eyed Peas to play the halftime of last season's Super Bowl, and in turn, I was ripped in the comments section.
And that's exactly why a dude named Dennis Guttman has put together
an online petition
that
begs
asks the
Lions
to not employ the Canadian rock band to play the halftime show of the Nov. 24 Thanksgiving game against the
Packers
.
In the petition, Guttman writes, "Detroit is home to so many great musicians and they chose Nickelback?!?!?! Does anyone even like Nickelback? Is this some sort of ploy to get people to leave their seats during halftime to spend money on alcoholic beverages and concessions? This is completely unfair to those of us who purchased tickets to the game. At least the people watching at home can mute their TVs."
Or as another signer put it, "I don't want to be sitting around with my family and have to listen to even more annoying people."
And really, how fair is this selection to Lions fans? For heaven's sake, they're still getting over
the loss of the Booty Lounge
. Haven't these people suffered enough?!?
Really, the only thing that could make the Nickelback selection somewhat palatable is if the band brought in Slash to play guitar. Or maybe not. Even using him in what turned out to be an underwhelming cameo, the Black Eyed Peas still managed to ruin halftime at the Super Bowl.
For more NFL news, rumors and analysis, follow

@EyeOnNFL

on Twitter and subscribe to our
RSS Feed
.