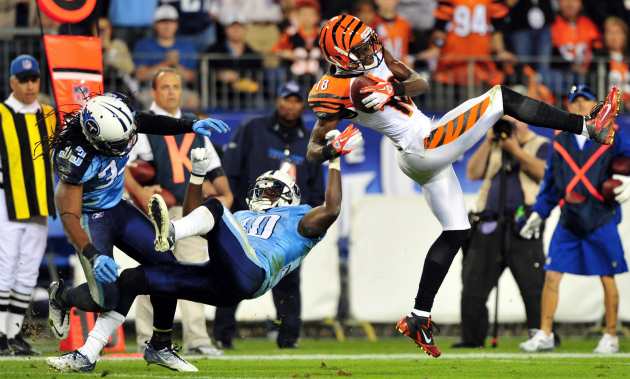 Posted by Josh Katzowitz
Eight games into his career, Cincinnati's
A.J. Green
has 40 catches for 599 yards and five touchdowns. All are the best numbers for a rookie receiver this year in the NFL (he's also 12th among all NFL receivers), and he's closing in on the
Bengals
rookie receptions record of 45 held by Isaac Curtis.
And already, there's talk about whether Green will be the best receiver ever in the organization. Even Curtis, considered by many to be the top guy in Bengals history (and not necessarily
Chad Ochocinco
), gives his seal of approval to the job Green has done so far.
"He's as talented as anyone in the league right now. He's got unlimited talent. He's fun to watch and he's certainly as talented as anyone that's come through here," Curtis told
Bengals.com
.
Well, what about Chad Ochocinco? After all, Ochocinco is the organizational leader with 751 catches and 10,783 yards. But as Butch Hobson points out, Curtis is a better choice for the title of "best ever Bengals receiver," because his 416 catches for 7,101 yards occurred during an era (his career lasted from 1973-84) where the passing game wasn't exploding and where quarterbacks didn't regularly throw for 300 yards a game.
But how does Green compare to Ochocinco in his prime? Curtis, who still lives in Cincinnati, would know.
"Chad was a tremendous player here; he had some great seasons," Curtis said. "But this kid might be a cut above. And I mean a cut above a lot of people. I really like him. I like his demeanor. He seems to be very pleasant, and he's just going to mature and get better and better."
Eight games into Green's career, the fact the Bengals top receiver will say that is interesting. But let's not forget what
Seahawks
rookie cornerback
Richard Sherman
earlier this month: "I would say he's probably
one of the most overrated receivers
out there. He wasn't anything special. (Andy) Dalton was a good quarterback. He makes good decisions, but A.J. Green is just a lot of noise talking and bad routes."
So, it's not unanimous after all. And with players like Curtis, Ochocinco, Carl Pickens and Cris Collinsworth in the Bengals record book, Green is still a long way from fulfilling such a lofty position.
For more NFL news, rumors and analysis, follow

@EyeOnNFL

on Twitter and subscribe to our
RSS Feed
.