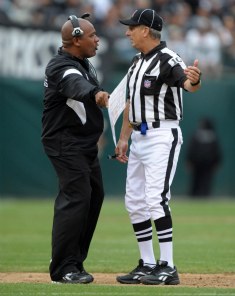 Posted by Josh Katzowitz
As per usual, the
Raiders
lead the league in penalties. Coming off their 12-flag, 117-yard day against the
Vikings
, the Raiders have amassed 114 penalties and 892 yards on the season, and that works out to an average of 11.4 for 89.2 per game -- much higher than Raiders opponents, who average 7.2 for 57.9.
That makes Oakland coach Hue Jackson mad, and after
his team's 27-21 win
against Minnesota, he let loose, possible league fines be damned.
It's not just that the Raiders are heavily penalized, he said. It's the way Jackson feels the referees are treating him.
"I understand that I am a rookie coach and maybe I don't get all the calls," he said, via the
San Francisco Chronicle
. "But there is no way some of the things that happened should happen.
"Sometimes I would get talked to as if they didn't know what I was asking. I just don't think it was fair. I asked several times for explanations and wouldn't get them. ... We can't get the ref over here when there is a break in the action, but he is over there on the other bench having conversations with them. I have a hard time with that."
A couple of calls Jackson might have been angry about Sunday included personal foul flags on
Tommy Kelly
and
Aaron Curry
, as well as a situation where the officials had to change a fourth down to a third down for the Vikings because of an oversight that occurred two plays earlier on the drive.
Jackson says he'll call the league about the matter today.
"I want us to have the same opportunity that everyone else has in this league," Jackson said.
Or, at the very least, he just wants somebody to listen.
For more NFL news, rumors and analysis, follow

@EyeOnNFL

on Twitter and subscribe to our
RSS Feed
.