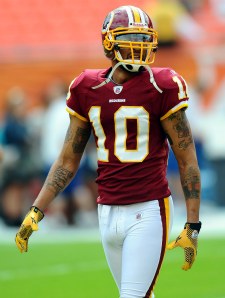 Posted by Josh Katzowitz
Apparently,
Redskins
receiver
Jabar Gaffney
didn't learn the lesson taught by former
Vikings
receiver Bernard Berrian that it's not a good idea to argue with Twitter followers and it's an even worse idea to insult them.
After the
Cowboys
escaped from Washington with a 27-24 overtime victory, an apparent Dallas fan tweeted to Gaffney that he laughed out loud at the Redskins "3-9" record. According to the
Washington Times
, here was Gaffney's response (the tweets on
his page
have been deleted).
"we 3-7 u dumb [expletive]" and then "3-7 ain't a record to be proud of I'm just proud I ain't you get a life or kill urself." Later on his page, Gaffney explained, "I don't want the man to really kill himself it was just a way of saying [expletive] off or leave me alone to all you lames keep up or don't follow."
You'll recall that Berrian, while
he wasn't so profane
, tweeted at a Minnesota state legislator who also happens to be a war veteran without legs (facts Berrian didn't know at the time), "Anytime u wanna watch the film with me. Not just one game but all of them. ... and if not sit down n shut up!!"
Berrian later apologized, but a few weeks later, the Vikings released him (it wasn't solely because of his Twitter mess, but that didn't help his cause). Gaffney would do well to heed Berrian's social media warning.
"Cowboys fans, that's how they are," Gaffney said Monday. "I was just telling the dude: 'Y'all won. All right, leave me alone. Don't talk to me.' That's all it was."
But as
Rex Ryan rediscovered today
, cursing at fans isn't a good way to go if you don't want the NFL lifting anything out of your paycheck.
For more NFL news, rumors and analysis, follow

@EyeOnNFL

on Twitter and subscribe to our
RSS Feed
.