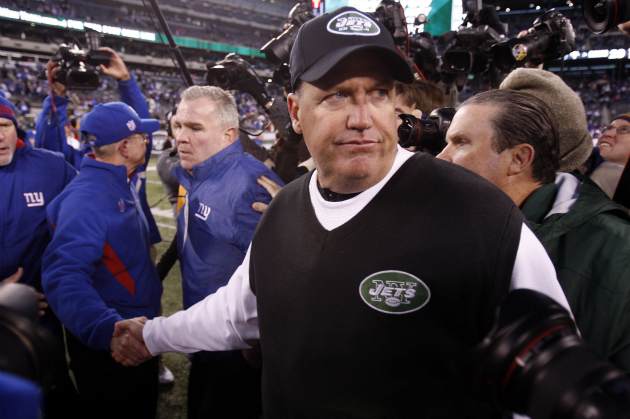 By Josh Katzowitz
As we all know, Rex Ryan loves to talk trash. Sometimes, it works for the
Jets
. Sometimes, it doesn't. Today, during his squad's
29-14 loss
to the
Giants
, it didn't work at all. And Giants running back
Brandon Jacobs
was happy to tell Ryan exactly what he thought about him afterward.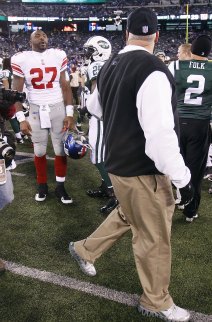 After the game was complete, Ryan and Jacobs had a verbal altercation in which cursing from both sides was exchanged and an insulting "fat boy" was thrown around by Jacobs.
According to Jacobs, via
Newsday
, he did nothing to provoke Ryan, but Jacobs certainly felt the need to defend himself once the two met during postgame handshakes.
"I didn't say too much to him," Jacobs said. "He told me to shut the f--- up and wait until we win the Super Bowl, and I said I would punch him in his face . . . I told him, 'Out of all of these Giants football players on the team, you're talking to the wrong one.'"
Then, apparently, Ryan told Jacobs to go "f--- himself." Later Jacobs said that Ryan had a "big, fat mouth."
Aside from the acrimony about the Jets' trash-talking (though Giants receiver
Victor Cruz
did
some of his own
this week), was the report that the Jets, who were the home team, placed black curtains over the Super Bowl championship logos that were painted on the walls of the New Meadowlands. Those curtains are there for all Jets home games, but the Giants thought that the move was disrespectful. Ryan was asked afterward about his confrontation with Jacobs.
"We had a private conversation," he said. "That's all I'll leave it as. Whatever. He doesn't like me. I respect him, but I could care less about him."
Mr. Jacobs, we'll give you the last word.
"You need to shut up," Jacobs said. "That's that. He's a great coach, comes from a great coaching family, but he needs to shut up."
---
Follow all the Week 16 action live: Inactives | Scoreboard

1 p.m. ET games:
CLE-BAL | DEN-BUF | TB-CAR | ARI-CIN | OAK-KC | MIA-NE | NYG-NYJ | STL-PIT | JAC-TEN | MIN-WAS

4 p.m. ET games:
SD-DET | PHI-DAL | SF-SEA
---
For more NFL news, rumors and analysis, follow

@EyeOnNFL

on Twitter, Like Us on Facebook, subscribe to our NFL newsletter, and while you're add it, add our
RSS Feed
.