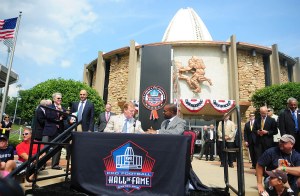 By Josh Katzowitz
The Pro Football Hall of Fame has
announced the finalists
(15 modern-day players and two senior players) for the 2012 induction class, and among them are Bill Parcells, Jerome Bettis and Cris Carter.
The selection committee, made up of 44 NFL writers from each NFL market, will meet Feb. 4 in Indianapolis to whittle down the list to the inductees. The new Hall of Famers will be announced that day at 5:30 p.m. ET.
Here is the complete list:
Jerome Bettis (RB) 1993-95 Los Angeles/St. Louis
Rams
, 1996-2005 Pittsburgh
Steelers
Tim Brown (WR/KR) 1988-2003 Los Angeles/Oakland
Raiders
, 2004 Tampa Bay
Buccaneers
Jack Butler (CB) 1951-59 Pittsburgh Steelers
Cris Carter (WR) 1987-89 Philadelphia
Eagles
, 1990-2001 Minnesota
Vikings
, 2002 Miami
Dolphins
Dermontti Dawson (C) 1988-2000 Pittsburgh Steelers
Edward DeBartolo, Jr. (Owner) 1977-2000 San Francisco
49ers
Chris Doleman (DE, LB) 1985-1993, 1999 Minnesota Vikings, 1994-95 Atlanta
Falcons
, 1996-98 San Francisco 49ers
Kevin Greene (DE, LB) 1985-1992 Los Angeles Rams, 1993-95 Pittsburgh Steelers, 1996, 1998-99 Carolina
Panthers
, 1997 San Francisco 49ers
Charles Haley (LB, DE) 1986-1991, 1999 San Francisco 49ers, 1992-96 Dallas
Cowboys
Cortez Kennedy (DT) 1990-2000 Seattle
Seahawks
Curtis Martin (RB) 1995-97 New England
Patriots
, 1998-2005 New York
Jets
Bill Parcells (Coach) 1983-1990 New York
Giants
, 1993-96 New England Patriots, 1997-99 New York Jets, 2003-06 Dallas Cowboys
Andre Reed (WR) 1985-1999 Buffalo
Bills
, 2000 Washington
Redskins
Willie Roaf (OT) 1993-2001 New Orleans
Saints
, 2002-05 Kansas City
Chiefs
Will Shields (G) 1993-2006 Kansas City Chiefs
Dick Stanfel (G) 1952-55 Detroit
Lions
, 1956-58 Washington Redskins
Aeneas Williams (CB, S) 1991-2000 Phoenix/Arizona
Cardinals
, 2001-04 St. Louis Rams
For more NFL news, rumors and analysis, follow

@EyeOnNFL

on Twitter, Like Us on Facebook, subscribe to our NFL newsletter, and while you're add it, add our
RSS Feed
.