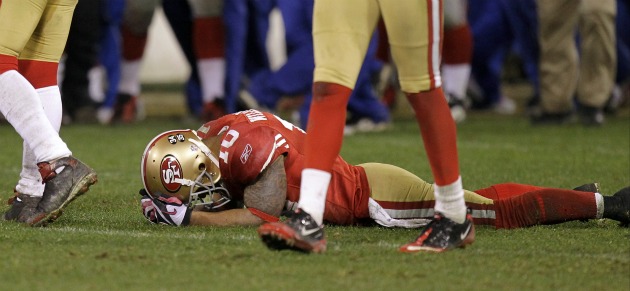 By Josh Katzowitz
After a man makes a couple major mistakes in a game that helps cost his team a victory, it's refreshing to know that that many fans, through the power of Twitter, can lend that man some much-needed support.
Take
49ers
receiver
Kyle Williams
, for example. He muffed a punt and then lost a fumble in overtime that led to the
Giants
winning the NFC title and advancing to the Super Bowl. His teammates and many of San Francisco's fans rallied around the crestfallen Williams, sending him messages of encouragement and love.
Championship Weekend Recap
Then, you have the people who, according to the
San Jose Mercury News
, are tweeting death threats and other heartwarming sentiments to Williams. As one apparent fan wrote, "I hope you, youre (sic) wife, kids and family die, you deserve it." Wrote another: "Jim Harbaugh, please give @KyleWilliams_10 the game ball. And make sure it explodes when he gets in his car."
So, that's nice, huh?
But his 49ers teammates were there to defend him.
"We all lost this game," tight end
Delanie Walker
said, via
CBSSports.com's
Gregg Doyel. "We play as a team -- it's 45 of us out there. It's not Kyle's fault, so don't go over there and act like it is. Cause it's not."
Safety
Donte Whitner
told reporters: "Hopefully, he doesn't beat himself up too hard. Hopefully, the media's not on him too tough. Because he's still a young player, and he still has a bright future in the National Football League.
"There's just certain things that you can't do in certain situations. We have to protect the ball at all times. I think he learns that now, and he'll be better."
For his part, Williams spoke to reporters after the game, saying he was simply trying to make a play.
"Everybody in here has covered my back and kind of patted me on the back and said, 'It's not all on your shoulders,'" Williams said.
Unfortunately, some of San Francisco's fans didn't get that memo.
For more NFL news, rumors and analysis, follow

@EyeOnNFL

on Twitter, Like Us on Facebook, subscribe to our NFL newsletter, and while you're add it, add our
RSS Feed
.