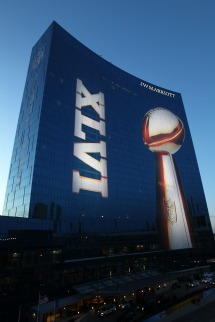 By Josh Katzowitz
INDIANAPOLIS -- Much like the hospitality, the weather this week in the host city of Super Bowl XLVI has been wonderful. In the middle of the day, the temperatures rise to the 50s, and though it's been windy at times, it was perfectly comfortable Tuesday afternoon to walk the half-mile from Lucas Oil Field to the media center at the downtown JW Marriott without a jacket.
Strangely, the weather in this Midwestern city has been SO much warmer than the nightmare snowstorms that plagued north Texas at this time last year, making life dangerous for inexperienced snow-drivers who oftentimes had to motor more than an hour to get around the Metroplex.
The weather here has been nearly tropical (relatively speaking, of course) but all of that could change between now and Super Bowl Sunday.
"There's a potential storm Saturday and Sunday, but exactly how it's going to take shape, we're still not sure about," said AccuWeather.com meteorologist Michael Pigott.
According to AccuWeather.com, one scenario is that a storm that develops in the Plains would stay too far to the south and to the west in order to serve any precipitation to Indianapolis this weekend, but the other, more-troubling scenario is a storm that "is more progressive, sending some rain into Indianapolis by late Saturday and even the possibility of a snow shower on Sunday."
"Depending on which (scenario) is right, it will have a large effect on not only the Super Bowl, but also the following week," Pigott said.
It probably won't affect most of us who are flying out of town on Monday. And since Super Bowl XLVI will be played indoors, it doesn't matter what kind of weather we'll be getting by Sunday.
So, aside from the fact that you might have to throw on a jacket (and maybe a stylish scarf while you're at it?), the weather before Sunday shouldn't cause anybody coming in from out of town to panic. Just another reason why Indianapolis has been a more pleasant host than Dallas.
For more NFL news, rumors and analysis, follow

@EyeOnNFL

on Twitter, Like Us on Facebook, subscribe to our NFL newsletter, and while you're add it, add our
RSS Feed
.