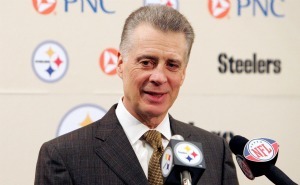 Art Rooney II tried to make it clear that Mike Tomlin was the one who wanted to hire Todd Haley. (US Presswire)
By Josh Katzowitz
Since former
Steelers
offensive coordinator Bruce Arians' contract wasn't renewed (and basically, was fired) and Todd Haley was installed as the new coordinator, there's been much speculation that some of coach Mike Tomlin's
power has been cut
within the organization.
Apparently, Tomlin didn't want to part ways with Arians, and apparently, he didn't want to hire Haley. Supposedly, team president Art Rooney II was the man to make those deals over the protests of his successful head coach.
Now, though, Rooney is denying he had much of a role in the Pittsburgh offensive upheaval.
"I think the bottom line is, Mike was comfortable that's who he wanted to come in," Rooney said Thursday afternoon in an exclusive interview with the
Pittsburgh Post Gazette
. "It may be fair to say that when he started the discussions and Todd's name was on his original list, I don't think he expected that Todd was the guy he was going to wind up hiring. But as he had more conversations with him, he became more comfortable that he was the right guy for the job."
The paper writes that the reason Rooney talked to reporter Ed Bouchette was because he wanted "to counter rampant speculation that he, not Tomlin, hired Haley to replace Bruce Arians …."
So, yes, there is spin involved in this story, and Rooney apparently didn't dispel the notion that he, not Tomlin, was the one who didn't want Arians around.
Aside from Haley, Rooney said Jim Caldwell was the only other candidate that Tomlin brought to Pittsburgh to interview for the job. Rooney said he had conversations with Caldwell and Haley when they were in Pittsburgh, but he said it was more informal than a regular interview.
"I wouldn't want my role in it to be overestimated because Mike has to decide who he wants on the staff," Rooney said. "Even though there's always a discussion between me and Mike about who he's hiring and how much we're paying him and those kinds of things, it's normally a discussion of the business side of the arrangement than, 'Are we going to hire a guy who's going to run the ball so many times a game.' It was a fairly normal process as far as I'm concerned in terms of how we've done those kinds of hirings in the past."
It's good that Rooney recognizes the need to let the public believe that Tomlin is the one calling the shots on his coaching staff. Because, for the most part, Tomlin
should
be the one to make those decisions.
But if Rooney was the one who wanted to let Arians walk -- and that seems fairly clear at this point -- he needed to let Tomlin save face with the Haley hire. No matter who actually wanted Haley, Rooney has accomplished that now with this interview.
For more NFL news, rumors and analysis, follow

@EyeOnNFL

on Twitter, Like Us on Facebook, subscribe to our NFL newsletter, and while you're add it, add our
RSS Feed
.