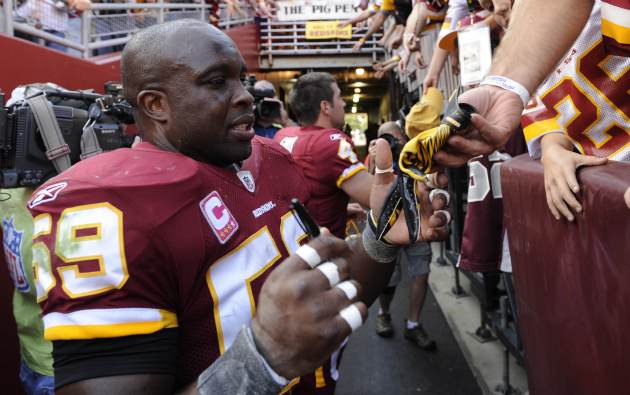 Fletcher, at 37, might not have many options other than returning to Washington. (US Presswire)
By Josh KatzowitzLeading up to the start of free agency on March 13, we're compiling the best 2012 NFL free agents by position. These are the linebackers.
While there are a ton of free agent linebackers about to come on the market -- I've counted approximately 80 -- there doesn't seem to be many surefire game-changers in the bunch.
London Fletcher
, vastly underrated in Washington, is one such player, but other than him, you've mostly got solid guys who can be contributors to whichever team signs them.
Some of the better free agent linebackers have been taken off the board already, as D'Qwell Jackson has re-signed
with Cleveland
while
Ahmad Brooks
agreed to return
to San Francisco
. Here are the rest of those who probably will try out their fortunes on the market.
Breakdown:
Though we have Williams as the
No. 1 defensive end
available, we have to give him some love on the linebacker list, as well. Simply because in Wade Phillips' 3-4 scheme, Williams was an outside linebacker. He only played five games for the
Texans
last year before tearing his pectoral muscle, but with five sacks, he also proved he can be successful in a 3-4 defense, meaning every team in the league should be thinking about Williams' worth. We thought he might struggle to find his balance in the first year of Phillips' scheme, but, as a linebacker, Williams is pretty damn good also.
Possible Landing Spots:
Texans,
Jaguars
,
Seahawks
,
Titans
1b. London Fletcher
Breakdown:
Fletcher is one of those players who, unless you're paying close attention, somehow seems to rack up the tackle numbers -- and you're not really sure how. And before you know it, he's leading the league with 166 takedowns, like last year. In fact, Fletcher has recorded at least 116 tackles every year since 2001, and he's started 224-straight games. The problem with Fletcher is that he's 37, and you have to wonder how long his durability will hold up -- as well as his penchant for making scores of tackles every season. That shouldn't matter, however, because it sounds like he wants to return to Washington and that the
Redskins
feel the same way. "We want our captain back," Redskins general manager Bruce Allen said earlier this month. The feeling apparently is mutual.
Potential Landing Spots:
Redskins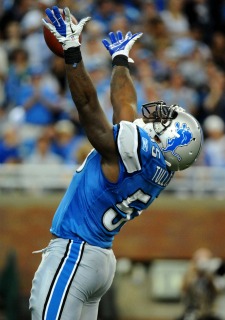 Tulloch might be a good fit in Philadelphia because he knows how to play in the wide nine. (US Presswire)
Breakdown:
After a solid 2008-10 with the Titans (the dude had 160 tackles in 2010), Tennessee let the
Lions
take away Stephen Tulloch for 2011. After recording 111 tackles, two interceptions and five passes defended last year, Detroit would like to keep him. It'll likely cost the Lions much more than the one-year, $3.25 million deal they paid Tulloch last year. More importantly for the Lions, though, is locking up defensive end
Cliff Avril
, and you have to wonder if the Lions will want to shell out that much money to two defensive players. One good option for Tulloch might be the
Eagles
. Considering Tulloch played for years with Jim Washburn, who installed the wide nine scheme in Philadelphia last year, Tulloch would be comfortable in that system. Besides, the Eagles linebackers last year were pretty horrible, and Tulloch would be a big upgrade. Wherever he lands, one can only hope that Tulloch gets another chance
to Tebow in front of Tebow
.
Possible Landing Spots:
Lions,
Buccaneers
, Eagles
Breakdown:
He's pretty much the definition of one of those solid linebackers I wrote about before, and the
Cowboys
don't fancy losing him to free agency. There has been speculation that the team could place the franchise tag on him, but if not, at least one Dallas reporter
has speculated
that Spencer could land a
Chris Canty
-like deal (a six-year, $42 million contract signed in 2009). The Cowboys might be averse to giving him such a long deal, because he hasn't necessarily lived up to his first-round draft pick expectations. Spencer's representatives and the Cowboys were scheduled to meet at the scouting combine, and if they can't come to a long-term agreement, Dallas might just have to grit its teeth and tag him.
Possible Landing Spots:
Cowboys,
Dolphins
Breakdown:
For the past three years, Lofton has been a tackling machine, accumulating at least 118 (including 147 in 2011), and it's clear the
Falcons
want to re-sign him. But when Atlanta general manager Thomas Dimitroff says that negotiations between the team and Lofton are "amicable," it strikes kind of a weird tone (or is that just me?). And maybe the Falcons won't be terrified if Lofton leaves. As the
Atlanta Journal Constitution
wrote last week, "There's growing sentiment that he's a liability against the pass. The question thus becomes: Would you pay $8 million a year for a two-down linebacker?" Lofton might want more than that. Reportedly, Lofton is asking or a four-year deal worth $36 million.
Possible Landing Spots:
Falcons, Eagles,
Browns
Breakdown:
With Hawthorne, you pretty much know what you're getting. He's good for about 110 tackles a season, five passes defended or so, and an interception or three. But it sounds like the Seahawks have a higher priority to sign running back
Marshawn Lynch
and defensive end
Red Bryant
than inking Hawthorne to a new deal. Hawthorne is only 26 years old, and he's solid across the board. But maybe more than most of the other linebackers on the list, there's not a great chance for him to return to his old team. The one caveat to that: now that
Leroy Hill
is facing
another drug charge
, that might open up Seattle's interest in Hawthorne again.
Possible Landing Spots:
Bears
, Cowboys, Seahawks
Breakdown:
The
Ravens
, at some point soon, might have to make a choice between whether they want Johnson or
Jameel McClain
(see below) to return to Baltimore for 2012. General manager Ozzie Newsome had said he wants to keep both, but that will be tough for the club to accomplish. So, if you're Newsome, who is the priority between Johnson and McClain? Well, McClain had more tackles (84-56) last season but less sacks (Johnson had 2.5 to McClain's 1), and the
Baltimore Sun
predicts the Ravens have a better chance of retaining Johnson. He is, though, four years older, which might mean Baltimore will actually go harder after McClain. "I'd like to fit in again here," Johnson said last month, via the
team's official website
. "But unfortunately this is a business and sometimes business decisions [have] got to be made. I hope to be back. I'd love to retire a Raven, but we'll see."
Possible Landing Spots:
Ravens,
Colts
7. Jameel McClain
Breakdown:
At 26, McClain is a young talent who likely will command a large salary (moreso than Jarret Johnson (see above)). It doesn't sound like there's a great chance for the Ravens to keep him.
Possible Landing Spots:
Ravens, Colts, Eagles
8. Honorable Mentions
Unrestricted:
Barrett Ruud
,
Chase Blackburn
,
Clark Haggans
,
Joey Porter
,
Andra Davis
,
Manny Lawson
,
Geno Hayes
,
Wesley Woodyard
,
Dan Connor
Restricted:
Dannell Ellerbe
,
Aaron Maybin
For more NFL news, rumors and analysis, follow

@EyeOnNFL

on Twitter, Like Us on Facebook, subscribe to our NFL newsletter, and while you're add it, add our
RSS Feed
.