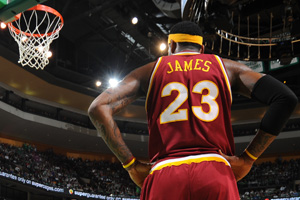 Mr. Young brought you the news that
LeBron James
is
hosting a little dog and pony show to announce
his decision on Thursday. James, Bosh, and Wade
will share a conference call Wednesday
to discuss their plans and possibly coordinate the checkmate moves. The storm clouds are gathering, as one might say.
But let's take a moment and recognize the apex of a movement in cultural interactions between celebrities and their fans. As is often the case, trends in sports and sports personalities reflect the ongoing evolution of our cultural landscape, and King James, he is reflectin'.
Over the weekend,
Joe Johnson
's agent, Arn Tellem
announced without announcing on the Huffington Post
that Joe Johnson would be accepting the max offer from the
Hawks
to return to Atlanta. Tellem was able to give what the Johnson camp wants to expound as his motivations and intentions regarding the decision to re-sign with the Hawks. He painted the picture that Johnson wants painted, and that's the lead story. By controlling the story, shaping it and putting it in a public forum, Tellem took the power away from the small army of reporters that broke news of the extension offer throughout the week prior.
This follows a year where we saw the best and worst of social media interactions with athletes. Some NBA players stuck their foot in their mouth,
Michael Beasley
famously posted images of himself
with marijuana on a nearby table
(later confirmed to not be his house). But on the flip side, the Oklahoma City
Thunder
embraced Twitter and saw their public image soar, particularly
Kevin Durant
.
Dwyane Wade
reached out and communicated, as did
Chris Paul
. By reaching out and communicating up front with their fans, these players made themselves even bigger and did so on their own terms without the risks involved in third party conversations and interviews.
Which brings us to LeBron James' actions throughout the week. First his
website appeared
revamped, with talk of "finding out first." Rumors of James intending to announce his free agency decision via the website
were later debunked
. Then the Twitter account opened. Don't think there's been a radical shift in policy with James? Consider that the reporter who's followed him his entire career is
completely baffled
by the opening of James' Twitter account. That, along with the announcement of the live announcement represent
a drastic change in the perception
of James by those that have been with him the longest. The stakes have changed. And the playing field has changed alongside with it.
The key to this is the ability to control the message. Instead of having every angle, feeling, and angle about his business decisions laid out by reporters around the media sphere and the world wide web (it's an information superhighway, you know), James has the opportunity to lay out his decision in the most dramatic way possible, while raising money for charity. He raises his profile, puts himself on the map in a way never before seen. He'll never be Jordan, but he can market himself bigger. What's striking is that by doing so, he's somehow moved the importance of this operation from what his decision is to the announcement itself.
It doesn't matter where James goes. It's how he announces it. The man is having an hour on the most powerful sports television entity in the world, selling his own advertising, and donating it to charity, only furthering his image. There will be backlash, because that's what happens when you market yourself. It's self-aggrandizement, but you should also recognize that it's proof of the power of controlling your own message, of honing and delivering it on your own terms. More so than going to New York or Chicago or staying home and being the hero, it's the process of his declaration that gives this moment its weight. It's false dramatics, but then, this is sport. We turn athletes into
Warriors
and games into legends. We're not above this behavior, James is simply harnessing its full power.
LeBron James is on the verge of a decision which will impact the next half-decade in the NBA. He could win multiple titles or walk away empty handed. He could destroy Cleveland or save it. He could resurrect New York, rise in Jordan's shadow, claim Brooklyn as his kingdom, or bring the party to South Beach. But in reality, regardless of his decision, he's making history. He's bringing the power of individual control to a new level, and capitalizing on the full weight of his business potential. For years, he's discussed wanting to be a global icon. It turns out that where he plays may not be the key to accomplishing that. Instead, his method for revealing his decision could be the launching pad towards finally reaching that particular atmosphere.
-Matt Moore