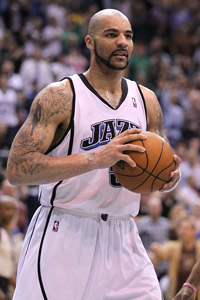 The
Bulls
aren't walking away empty-handed from this free agency period.
Sources tell CBSSports.com's Ken Berger that the Bulls have reached an agreement with
Carlos Boozer
. The news was first reported by
ESPN
and the
Chicago Tribune
's KC Johnson.
Boozer fits a need for the Bulls, providing low-post scoring and rebounding to go alongside
Joakim Noah
, and provides a veteran on a relatively young crew. He's not the most sterling of free agents, but he does bring some high efficiency. Boozer averaged 19.5 points and 11.5 rebounds last season (contract year!) for the
Jazz
, with 21.3 PER. It doesn't put him in any elite levels, but if he can provide scoring for the Bulls offense as a post-presenct, that's what they need.
KC Johnson of the Chicago Tribune also makes note that the deal leaves space for a max contract if the Bulls can sign one. The only target remaining of course, is
LeBron James
. And trying to figure out where he's going is like trying to answer the Sphinx's question underwater.
If the Bulls don't land James, they'll still have an improved team next year with Boozer, but will be paying a pretty penny for him at 34 years of age when this deal expires. The Bulls will have to hope
Derrick Rose
becomes the superstar and that Boozer's scoring and Noah's defense is enough, along with whatever else the Bulls can acquire, to contend for a championship.
-Matt Moore