Posted by Matt Moore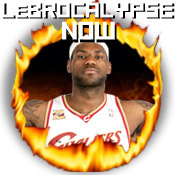 The Boys and Girls Club of Greenwich is having itself quite the day. Fox CT in Conneticut
is there filing live reports
and the sattelite trucks are already jamming the parking lot. Fans have arrived. I'm pretty sure I saw an elephant tap dance through one of the live shots. I thought I saw the bearded lady, but it turns out it was just
Drew Gooden
. (It was not Drew Gooden, I just made that up. See? That's how easy it is to start a LeBron rumor.)
ESPN has hired
10 off-duty cops for security
. I'm sure that's going to be a fun job. If I'm the greater Greenwich area and I have access to either bottled water or cold beer, I'm heading down there to make a profit.
It's a ridiculous scene that we had to expect. I would anticipate we'll start seeing other news organizations filing reports from Greenwich soon. What would be great is if ESPN had a crew outside reporting from the scene outside of the scene that they themselves are hosting inside. It's meta, man. So meta.
Please make this day end soon. The hype is going to devour us all.