Posted by LeBro...Matt Moore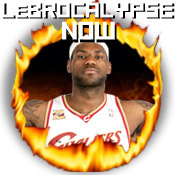 You may think that you've seen the heights of media coverage for this thing, but you'd be wrong. SBNation.com today showed you what real
LeBron James
coverage is.
Yup,
that pretty much does it
.
It's hard to go anywhere without being bombarded today with coverage about LeBron. That would be why we consider this
the LeBrocalypse
.
Have we all gone too far? Have we abandoned all reason and good judgment in the pursuit of pursuing this story bent out of control? Probably. But if we've gone mad, it's James that's driven us there. In some sort of gold-plated car. With a spoiler. With coporate logos all over it.