Posted by Matt Moore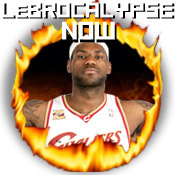 When it was announced that
LeBron James
would host the event on ESPN to announce "The Decision," it was pushed immediately that the money from the sponsors for the event would be donated to charity. Of course, never was it said exactly how much of the proceeds would be donated. Only that proceeds would be. Which leaves open the question. How much
is
being donated to the Boys and Girls Club?
Brian Windhorst, in typical fashion,
has some interesting information to pass along
.
This article from the LA Times is interesting in and of itself for the information about how the special came about and how LeBron's agency CAA was pushed out of it, but at the bottom is the fact that a reported $3 million was raised by sponsors, with Nike matching that amount for a total of $6 million. Meanwhile,
this CNBC component
reports that the Boys and Girls club will get $2.5 million from the event.
So where's that extra $3.5 going?
This "Decision" was a little easier to make than we thought. Not where to go of course. Who cares about that when you can make easy money like this?