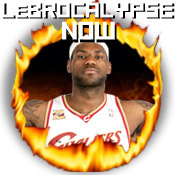 Posted by Royce Young
We're around 40 minutes away from actually knowing, but that's not stopping the entire universe from hunting for any clues that may hint one way or the other.
Miami Herald columnist and blogger
Greg Cote tweeted this
:
LeBron-to-Miami may not be happening. Heat has canceled a full-page welcome ad in The Miami Herald. This time I'm serious.
On top of that, Ethan Skolnick, writer for the
South Florida Sun-Sentinel
,
tweeted a similar thing about his paper.

I don't know if that means anything or if it's actually true (though I'm sure an employee of those papers wouldn't make that up), but that seems like
something.