Posted by Matt Moore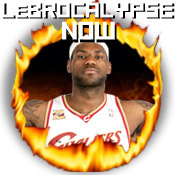 ESPN's Chris Broussard is sticking to his story, that LeBron is headed to Miami. However, in the past three hours, a swarm of Cleveland reports have been surfacing, primarily from people around the league. The Miami rumors have been sourced primarily from "close to LeBron" but those around the league and throughout the media continue to believe he'll stay with Cleveland. The sheer money and amount of emotional damage are enough to bring James back, as the argument goes.
The emotional damage to Cleveland was characterized by Brian Windhorst live on ESPN as potentially "like an atomic bomb." Windhorst also said that if James were to leave, he and his family would be unable to live in Akron for many years.
So, you know, Cleveland's taking this whole thing well.
If Cleveland is really the spot? Time's running out for James to decide,
finally.