Posted by Matt Moore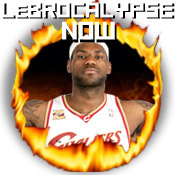 We told you for days that someone was going to lose the NBA free agency arms race. That several teams were going to lose. And tonight, the final blows were struck. With
LeBron James
announcing his intention to sign with the Miami
Heat
, every team but the Heat will fall into the losers category. From here on out it's just a matter of degrees. Here are the losers, in order of degree by which this day sucked:
Level 1- LeBrocalypse Devastation: First four Black Sabbath albums
1. Cleveland Cavaliers:
Go ahead. Let it out. You too, Dan.
Get it out of your system
. In Comic Sans, no less. It's bad. It's really bad. It's not just the emotional stuff. The deep connection people had to the kid from Akron, Ohio's native son, the local boy done good. It's the practical stuff. The city of Cleveland just lost out on what some estimates have put at $250 million in revenue to a South Beach heist. That's jobs. That's vacations. That's benefits. They weren't James' responsibility to watch out for, his obligation is to his family and his company. But it still deepens the wound. And that's not all. What about the practical holes in the roster? Who plays the small forward? They sacrificed so much, committed to bad contracts of veteran players in an attempt to build around James. And now?
It's a team poorly constructed. With little hope to remain in contention. Their best players are now
Antawn Jamison
and
Mo Williams
. There's no bright side to this. They can't bring in another player to put their hopes in. There's nothing but the sting of watching the media coverage for the Heat ramp up to levels the Cavs never saw. There's just nothing left. In a television interview, Brian Windhorst described the scene in Cleveland as if an atomic bomb went off. Kaboom.

2. Chicago Bulls:
Here's a bad sign for when your organization has probably thought too much of itself. New York looked humble and realistic next to the Bulls in this whole thing. When the most self-important set of zip codes in the modern world is showing you how to keep things in perspective, you may have overestimated your position. The Bulls played their cards strong to the point of bullying, challenging and charging at LeBron at every turn. In the end, it was the quiet, subtle Pat Riley who made the most effective pitch and converted the deal, while the Bulls come off as brash and overly confident.
The Bulls honestly expected that the attitude "You should want to sign here" would work. And by all accounts, they were close. But as usual, the Bulls organization fumbled an opportunity and now face a reality where their big "get" was
Carlos Boozer
. Hey, at least you're not paying him $20 million plus when he's 35. Wait.

3. New Jersey Nets:
The Nets knew they were sunk before ESPN's camera's showed up at the Greenwich depot for coffee (they may not have a depot in Greenwich). They signed
Travis Outlaw
to a deal which slammed the door shut. The Nets are committed to a long-term approach using youth and growth. That's the new plan. Landing one of the top guys would have helped. But they fell out of favor almost as soon as they made their pitch. It's more that the Nets are looking at a longer rebuilding process than the other teams that lands them here. They have no
Derrick Rose
to comfort them, nor an
Amar'e Stoudemire
signing to take the sting off. But really, their fate was sealed when the lottery balls didn't go their way. That's the way the cookie crumbles. Anybody know the Russian word for "Plan B?"
4. New York Knicks:
Well, they did get Amar'e. And now have
Anthony Randolph
and some solid roleplayers. The Knicks wanted to become a legitimate force in the NBA championship picture. Well, that didn't happen. And so they wind up on this failures list, but in the end, the pain isn't as great as it could be. They did get a top flight free agent. And from there, D'Antoni has started to assemble a roster that may not be a championship contender, but is similar to some sort of mid-70's ABA underground club, playing in the back-arenas of New York. A running, striding, power team with point-forward capabilities and shooters that can get out and run with the best of them.
It's not the worst of fates for the Knicks, and unlike the Bulls they don't look desperate or misguided and unlike the Cavaliers, the franchise still stands with hope for the future. It wasn't a win, but it wasn't the end of the world.
5. Los Angeles Clippers:
"Self-pity is our worst enemy and if we yield to it, we can never do anything wise in this world." - Helen Keller
Funny story, Helen actually had a better overall vision for a basketball organization than the Clippers do.