Posted by Royce Young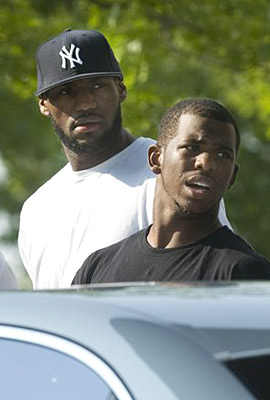 Nobody is blaming
Chris Paul
for wanting out of New Orleans. The roster is a wreck, the
Hornets
fired a coach he liked, fired their general manager and ownership is changing hands. There's no direction and really, no immediate success on the horizon.
And today, CP3 got an endorsement for someone that may sour some on Paul's demands.
LeBron James
tweeted:
"
Best of luck to my brother @

oneandonlycp3

. Do what's best for You and your family." At this point, LeBron endorsing CP3's idea to leave his club is like Bernie Madoff recommending the next Secretary of the Treasury.

Brian Windhorst of the Plain Dealer put it rather brilliantly in just 140 characters : "

These days 'brand management' & 'doing what is best for your family' apparently means turning off as many of your fans as possible.

"

It's almost getting to the point where someone could commit armed robbery or sell meth and it would be justified as long as they precluded it with a, "I'm going to do what's best for me and my family." Wait, actually that's the plot of Breaking Bad and honestly, within the context of that show, it makes total sense.

But this isn't life or death here. This is basketball . If I were being careless with words, I'd make some sort of comparison to the World Trade Center or poverty in Africa here. But that's the point - this line of looking out for number one is getting old, because we all really know it's just an excuse to get what you want. It's not about the greater good, it's about numero uno. Doing what's best for "me and my family" really just means, "Where am I going to have the on-court success, get the glory I feel I deserve and make bunches of money?"

What's interesting is that LeBron, Dwyane Wade and Chris Paul all just made a trip out to Vegas to talk to Team USA as they prepare for the World Championships. So it's clearly interesting that LeBron wanted his encouraging note to CP3 to be public. He could've just leaned over and told him while out in Vegas together. And no one is so naive to think that Paul hasn't talked to LeBron and Wade about all this anyway. Maybe that's where the original seed was planted. Paul is repped by the same agent as LeBron so the people that orchestrated the King's departure from Cleveland could surely manufacture the same for CP3 and New Orleans.

The thing is, it's not a bad thing at all to do what you want to do. Actually, it's a good thing! LeBron wanted to go to Miami. He didn't really hurt his reputation in my mind, he just hurt his legacy. And if he's fine with that, I have no qualms. Paul could escape NOLA and be the good guy. He wouldn't take near the blowback LeBron has received and CP3 will be seen as the victim. Nobody would blame him for leaving.

But Windhorst's point remains - just because you do what you want doesn't mean everyone is going to be behind it. Paul's efforts to get out of New Orleans has already surely hurt his standing with the Hornet fanbase. But it's not about that for CP3. It's about brand, about money and about what's best for me. And I'm not entirely sure that's really such a bad thing. Or is it?