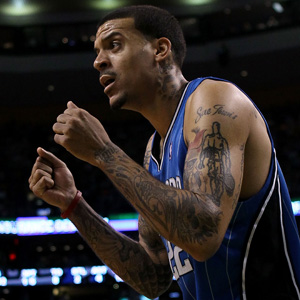 Posted by Matt Moore
Remember how the
Lakers
bench was terrible last year? Yeah, not so much this season.
Adrian Wojnarowski of Yahoo! Sports reports
that
Matt Barnes
has signed a two-year, $3.6 million contract Thursday, and also signed
Theo Ratliff
. So the one, merciful, mockable weakness that the Lakers had has been eradicated, replaced by a list of reasonable contracts for quality players. They're reserves, to be sure. Barnes has terrible catch handles and thinks he's a much better perimeter shooter than he is.
Derek Fisher
(now a backup with
Steve Blake
on board) is a defensive liability and has the offensive versatility of a tree stump at this point. Ratliff
had a worse PER
than Kwame Brown last year.
But it's when you consider how small of a gap they have to cover while the megastars rest. The Lakers added a defensive stopper to go with
Ron Artest
, a quality backup point guard (who has started for them for years), and a veteran center Phil jackson might actually trust to play. It's a terrific combination of signings. Not enough to match the other teams' signings this summer, but then, the Lakers didn't need much either. Being, you know, defending champions and all.
The Lakers have addressed their biggest need, which wasn't really a
need
, since they won the NBA championship with that weakness. Miami can add all the guys they want. Until someone else winds up with a ring, the Lakers still run this league. And they just got stronger.