Posted by Matt Moore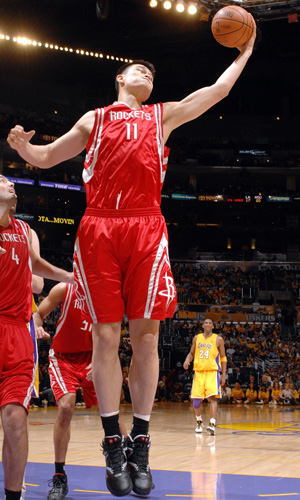 You have to remember how good this
Rockets
team was. Or rather, how good they could have been. In 2006-2007,
Yao Ming
only played 48 games. He broke his kneecap in December and was sidelined until March. When healthy, Ming averaged 25 points per game (26.6 per 36 minutes), averaged 10 rebounds, and 2 blocks per game. He had a PER of 26.5 that year, which would have been good enough for second behind
Dirk Nowitzki
if he had maintained it for the 34 games he missed. The Rockets were fifth in point differential that season, even with Yao missing all those games.
They finished
fourth in SRS
, a rating that measures strength of schedule and point differential, but wound up as the fifth seed. Worse yet, they were matched up with the Utah
Jazz
, a team that for whatever reason, owned Houston completely and totally during the middle 00's. That same Utah team would not only defeat the Rockets, but be gifted with the Golden State
Warriors
, fresh off their own matchup-oriented upset of the Dallas
Mavericks
, before falling to the
Spurs
in the Western Conference Finals.
This was pretty much par for the course for the Rockets. Have a great season, be in position for a high seed, Yao as an MVP candidate. Then a Yao injury and a tough matchup with the Jazz, ending in an out. They finally managed to avoid injury. Finally managed to make it past the Jazz. And wound up against the
Lakers
in 2008 and looked very much like they had a shot at pushing LA. Broken foot. Done.
The questions will always be out there. What if Ming stayed healthy? What if Daryl Morey was able to pull of his moves a little sooner? What if Tracy McGrady hadn't been, well, you know, Tracy McGrady. What if things had gone just a little differently for that Rockets team? Not a lot. Just a little.
There are a million unfair endings for NBA players and teams, just as there are in life. Kermit Washington. Sam Bowie. The Blazers are staring down the barrel of such a situation with
Greg Oden
. But Ming's was more than just promise. It was delivered. When healthy, Yao Ming was the best center in the NBA.
Dwight Howard
is an absolute beast. One of the best defensive players you'll ever see. And Yao Ming had him dead to rights because of his touch, discipline, versatility, and range. He had a ridiculous array of moves to go along with his frame.
Has him. Had him. We're not sure which.
Ming is scheduled to return this season from the foot injury that cost him all of 2009-2010. But
reports today indicate
he may hang it up after this season, debating on how it goes. Yao turns 30 this year, and from the quotes he gave to the Chinese reporters, he's taking his usual level-headed approach to it.
Like I said before, I will quit the national team and the sport one day. It's what happens to every athlete."
Compare that with Tracy McGrady, Shaquille O'Neal, and Allen Iverson. You may call it a fierce competitor's will to play, I call Ming's attitude class and rationality. And it brings us to an important point.
This may seem like burying the man's legacy before the heart stops beating. But if this is his last season, we need to soak up whatever few moments we get to watch him play. We need to remind ourselves of how good Yao Ming really was, and can be. A big man with touch is seldom seen these days, and Ming brought a fierceness with him that we first thought would never come. By the time he hit his stride, we had seen the lion inside the lamb, only for the lion's paw to detonate into a million pieces. Every generation has their own lost legend. Yao Ming is this one's.