Posted by Royce Young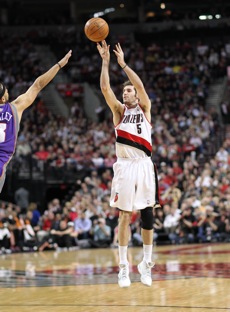 Rudy Fernandez wants to be traded. He's wanted to be traded since before the draft. The Blazers got close with a few teams, but nothing ever materialized. It even got to the point Fernandez said he preferred to return to Europe.
And currently, Portland is talking to a bunch of teams about the shooting guard, reports The Oregonian . According to the report, Boston, Chicago and New York are all in the running for Fernandez.
Some of the teams interested in Fernandez have offered a future first round draft pick, while other offers would pair Fernandez with another Blazers player, according to the report. In a story from the Chicago Tribune , James Johnson is reportedly being shopped and is part of an offer to Portland for Fernandez. If Chicago were to complete that deal, Tracy McGrady's chances to play for the Bulls just got slim.

In December 2009, Fernandez's agent Andy Miller asked the Blazers to trade Fernandez during a breakfast in New York with the Blazers' top two basketball executives, general manager Kevin Pritchard and assistant general manger Tom Penn.
And Fernandez wants out, now more than ever. He's not making quite the splash
Chris Paul
is, but he's unhappy with playing time and it's only going to get worse with
Wesley Matthews
signed. But a trade could be coming soon.
"I've spoken to Andy and I'm aware of Rudy's feelings," general manager Rich Cho said. "But at the end of the day we are going to make the best decision for the franchise."
Miller says he expects a trade to be made in the near future. Fernandez will earn about $1.25 million next season and his contract includes a team option for 2011-12.