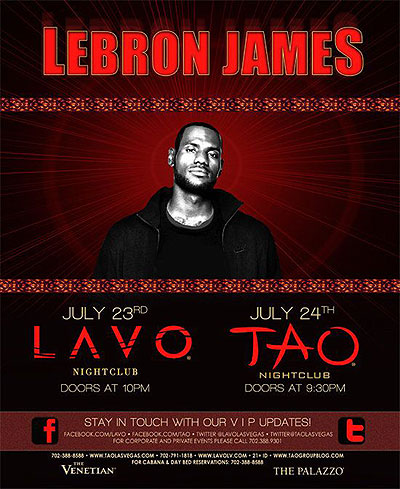 Posted by Matt Moore
Hey, what haven't we written about for thirty seconds? I know! LeBron!
Today's tale is especially gooey though. It involves chap stick, champagne poured out, women in a bathtub, and the continuing self-demolition of
LeBron James
' public persona.
Arash Markazi is
a columnist for ESPNLosAngeles.com
. Last weekend, while King James and his merry men were partying in Vegas, Markazi was invited along for the festivities. This isn't anything new. Media members are occasionally privy to such events as part of a profile, but the events are almost always considered off-record. Markazi was apparently not under that impression, at least when he filed.
Markazi's story went up this morning
at this link
(link now = very dead). Within the hour, it was taken down again. Whoops. Something went up that shouldn't have. Unfortunately for the poor folks at ESPN.com's editorial department, in this day and age,
someone
managed to extract a copy of it. And it
now lives on the Internet forever
, among the weeds.
So what was it in that article that brought so much attention?
Well...
There's nothing in the article that is particularly shocking. Millionaire 25-year-old parties like a rock star, par-parties like a rock star. The problem is that it represents yet another blow to the hollowed out wreckage that is LeBron's public image. Furthermore, even though hardcore NBA fans, media, and personnel are fully aware that this is the kind of life James leads, it's still not the image he wants to project to the mothers of the ten year olds buying his shoes/lunchboxes/cereal/colognes. So what does the article say exactly? Let's go to the tape!
Want references to scantily clad women? You got it!
"The waiter bringing him his cup of green tea with a spoonful of honey and a dash of lemon juice makes the cut, as does the scantily clad brunette with a tattoo of a heart on her right shoulder. She wants to take a picture with him. "I can't right now," says James. "Maybe later, upstairs, I'll remember you're the one with the tattoo."
And then later:
Bottle after bottle of "Ace of Spades" champagne is delivered to the table by a waiter flying down from above the dance floor like some overgrown Peter Pan on a wire. One time he's dressed like a King, another time as Indiana Jones and another in a replica of James' No. 6 Miami Heat jersey. James, who can hardly see the flying figure through his tinted glasses, almost gets kicked in the head on the waiter's last trip down. He looks at the girls around him and says, "I wish they'd have one of these girls with no panties do that instead of the guy."
Well, hey, LeBron's not married. Not really any of our business. But it certainly doesn't paint the image that James wants to in light of the backlash he's faced since "The Decision."
The article features an inside look at how James behaves in close company. Not only James, in fact, but head of LRMR marketing Maverick Carter, who has emerged as the the dominant force behind James' decisions since hitting free agency. So a man of that kind of power, responsible for the business decisions of one of the most powerful people in sports today is probably reserved and in control, right?
Carter, LeBron's childhood friend and manager, begins dancing around James like Puff Daddy in a Notorious B.I.G video. A giant red crown-shaped cake is brought over to James while go-go dancers dressed in skimpy red and black outfits raise four lettered placards that spell out, "KING." Carter grabs a bottle of Grey Goose and pours a quarter of it on the floor and raises it up before passing it off.
Well, okay, that's a different approach.
Want to know exactly how ridiculous the entire spectacle is?
Glen Davis
thinks LeBron was acting a fool. That's right. The guy nicknamed "Big Baby" who was compared to Shrek thinks James is over-the-top:
Toward the end of the night, Boston Celtics forward Glen Davis walks past James' party and looks at the scene up and down several times like a painting in a museum, soaking in the images of the go-go dancers, the "King" sign and the costumed man delivering bottles of champagne.

Davis shakes his head and walks on.

James dances on the couch and sings along with the music blaring from speakers all around him.
Burn!
I'm not even going to touch the flying waiters in Indiana Jones outfits. (I thought they named the hooker Indiana. Or am I getting that quote wrong?)
Allright, but the story was only up for a few minutes and then taken down. Surely no one's had time to already start making fun of...
Oh
.
Oh,
and that
.
Oh,
geez
, the "nexus of insane wealth and mega-celebrity." Well played, SBNation.com.
Well,then.
For James' part, Darren Rovell is reporting that his team has said
they did not have any part
in the piece getting pulled. And ESPN has come
back with an official quote
, first reported by Rovell, and told to FanHouse and our own Ken Berger:
"The story should have never been published. The draft was inadvertently put on the server before going through the usual editorial process. We are in the midst of looking into the matter."
Oh, so that's what happened. A story outlining the most powerful figure in the NBA whose public image has been tarnished outlining his rather opulent weekend in moderate detail just got slipped onto the server.
That guy that lost the iPhone 4 is going to have nothing on whatever poor guy screwed this up.
We shouldn't overreact to this, there should be nothing in this article that stuns us. James does nothing illegal, inbibes no illegal drugs, says nothing of real controversy. He's just your average, run-of-the-mill, mega-star with millions of dollars being treated like a god in the most opulent place on Earth. He's a lot like you and me, actually, if we routinely faked playing basketball in casinos and hung out in places with naked women in bathtubs with rose pedals as decoration (my wife prefers paper lamps). Really, part of LeBron is inside all of us. I'll let you figure out which organ that is, in particular.
(Image via:
Ball Don't Lie
)